JConcepts Truth Body Decals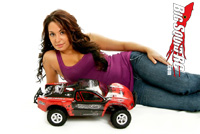 Let's face it, the Traxxas Slash is one of the hottest rides out right now, mine is right here next to me! The problem is there isn't much of a selection of CORR type bodies out. The JConcepts "Truth" has been out for a few months and is about the nicest looking shell on the market but not everybody has the talent to lay down an incredible multicolor paint scheme. Here comes their body wraps in two flavors. Just lay down a coat of your favorite color or colors and apply the JConcepts wraps and your off and running with a wild new design.
JConcepts – Truth body wrap (Red) Part # – 2048
JConcepts – Truth body – GRG (Good Run Gear) sponsor body wrap (Blue) Part # – 2049
Stop by JConcepts site, they will be waiting for you!