Just because we are not racers…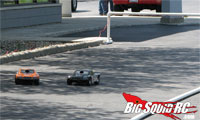 Just because we are not racers, does not mean that we are not competitive. I would say just about every time we get together and have transmitters in our hands, Bill and I are usually doing our best to 1up the other guy! Similar to a Travis Pastrana and Andy Bell from Nitro Circus. We just can't let the other guy have any sort of victory.
A couple of weeks ago we got a call from our friends at the local Hobby Town asking if we would help them set up some 'parking lot racing'. We informed them that they had the wrong number, and hung up. When they called back, we were told they had a I-Lap system brand new sitting in a box, and they really would like to put it to use and would appreciate our help. While the 'R' word is pretty easy for us to ignore, the 'H' word is one we here at Big Squid RC are always a sucker for. We preach enough around here about bringing people into the hobby, so we might as well practice it once in a while right?
So we get everything back to the workshop, and start assembling the timing system. The assembly went smooth, and the PVC start finish works pretty well. It's a great setup for a track on a budget. We needed to test it before actually running a race anywhere, so it was time to throw down a few laps.
Bill had a modified Slash that was flying with a Novak brushless setup, while I was driving my stock Blitz. Now normally I would be in some serious trouble here, but since we were on pavement, his overpowered torpedo would be no match for my Blitz's ability to actually turn without rolling over. 🙂
GO! Of course I was behind off the line, but the first turn the Slash was up on two wheels trying not to roll, as I played catchup on the inside lane. Our quick and dirty test track was tiny, a few right turns and a jump. Several laps in, we were pretty much neck and neck, Bill pulls away on the straights, and I catch him on the turns and controlled jump. On our last lap, I was a car length behind coming around the bend. He was on the outside, and I had the inside lane. To cross the finish line, he was going to have to turn in front of me to win. I knew if I slowed down, I wouldn't cross the line first, so I stayed on the throttle, and gritted my teeth. It came to the point where we had to turn, he cut the wheel hard… I didn't. WHAM! I t-boned him at full speed taking us both over the ramp/finish and onto the curb. the only thing missing was the fiery explosion. AWESOME! We both laughed pretty hard, at how it went down. If that would of been ANYONE else there probably would of been fisticuffs involved, but as bashers, I honestly don't think we could of ended the racer any better.
This last weekend we laid out a test track in the Hobby Town parking lot. Craig from I-Lap stopped by to help us work out a few kinks, and it looks like we are ready to attempt a race! So if you are in the area, this Sunday at the Orland Park IL. Hobby Town, we will be doing a little parking lot race and bash action. We don't expect any big numbers, or any amount of organization for the first few, we are just going out there to have a good time, and get some newbies into the hobby! Make sure to call Hobby Town to verify times and dates. It should be a 'run what ya brung' style assuming we get mostly beginner vehicles showing up. Expect a few jumps, and lots of trading paint. Probably won't even break people up into classes unless we get enough. No serious racers need apply! 😛