Kershaw Designs expands line of Mod 1.5 pinions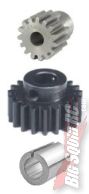 Kershaw Designs loves them some brushless converted 5Bs and 5Ts and to prove it they've expanded their line of Mod 1.5 pinions that mesh with the stock spur gears on the Baja Fives.  The full line now includes 12 – 20 tooth 8mm bore steel pinions and 14 – 20 tooth 10mm bore hardened steel pinions.  Prices are $14 for the 8s and $24 for the 10s.
Check out the Kershaw web site for more info.