Kershaw Designs got some Savage parts
Kershaw Designs' got some more stuff for you to peep at today. A lot of it is for you HPI Savage and Savage Flux fans.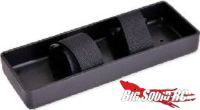 First up is KD's redesigned Velcro battery trays. They've been revised to accept battery packs up to 51mm wide now and they've been made tougher too. You can get them in a flush mount version or a version made specifically for all the Savages, including the Flux. These fancy ones will run you $29.99. Kershaw's also got a new simple Velcro tray that is available for only $7.99.
In bigger news KD is also bringing the Savage 5T conversion chassis to the Flux. It's a simple chassis plate swap that will let you mount a HPI Baja 5T body on your Savage Flux, effectively giving you a brushless electric 5T. The chassis is made of 3.2mm aluminum and it will stretch your Fluxes wheelbase out to 22.1″. The conversion also includes extra long center dog bones so that your motor can actually drive the wheels. Otherwise it'd be kind of useless. Look for the Savage 5T conversion chassis in a few weeks and expect to pay $149.99.


Lastly the KD boys have a revised version of their Savage Direct Drive brushless gearbox for all those Savage nitro to brushless convserions out there. There's a whole lot of minor updates in this new unit, including longer motor mount slots that allow you to use a larger range of pinion gears, toughened up black spacers, stronger gears, and it's been given a cosmetic makeover as well providing cleaner lines. Version 2 will be out in about three weeks and you'll need $99.99 in your bank account to complete the transaction.
Hit up Kershaw Designs' web site for all this and more.