Killerbody Warrior 1:28 Scale 4WD – First Look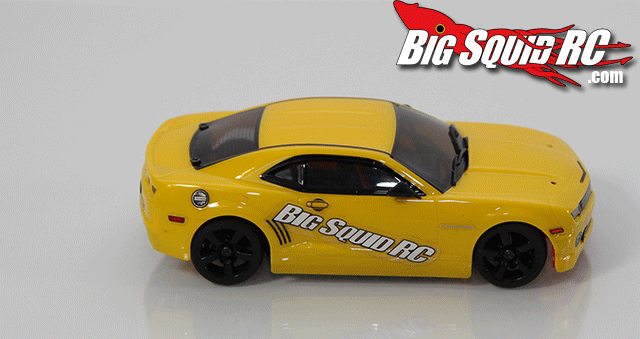 We have actually seen the 1/28th scale Warrior from Killerbody a few times over the last few months at various events, but only now were we actually able to borrow one of the prototypes for a few weeks and give it a good run. Before we always had to be 'careful' with it. This time around we were hitting other vehicles, track walls, cabinets, you name it. We are happy to report it has survived thus far.
The 4WD of the Warrior has been a blast on all sorts of surfaces. It's been most fun on slicker surfaces where there is a little give to let you drift corners, and slide out when needed. On high traction surfaces, the stock Warrior is fast enough to traction roll, so you will need to mind the throttle accordingly. The power this vehicle throws out is great. It's running on two LiFE round cells that were about 500mah in the one we tested.
Something we liked very much was the fact that the receiver was not incorporated into the ESC or servo like many other vehicles of this scale are. So if for some reason you decide you want to use a different transmitter/radio setup, you can easily do that.
Other highlights on our demo unit, full bearings set all the way around, ball differential, the ability to change out the steering servo to whatever you want, and just a really nice layout of all the parts. We have been so used to everything on these smaller scales being so hard to change out or work on, the Killerbody Warrior is a welcome change! Hopefully the rest of the class will wake up and follow suit.
As you can see the Chevy Camaro body is awesome. They actually have a decent size line of 1/28th scale bodies coming out when the Warrior starts shipping. They have 3 different color Camaros, 4 different color Corvette GT2s, and 4 different Mitsubishi Lancer Revolution X. Plus each body is also available in clear.
A lighting system will also be available sometime around launch.
The Warrior did well at the local micro track, but was a blast to drive on slick tile or wooden floors. Our only issue with the test version is that it's easy to hit drag or hit something with the chassis and accidentally hit the OFF switch. An easy fix would be just to rotate it 180, or because the car is so versatile, you could move the switch somewhere else.
We look forward to bringing you a full review once the full productions units arrive.
For more information, make sure to check out the Killerbody official website.
Want more Killerbody news from Big Squid RC? Hit This Link.