Kyosho DBX VE 2.0 Review
The Kyosho DBX VE 2.0 Review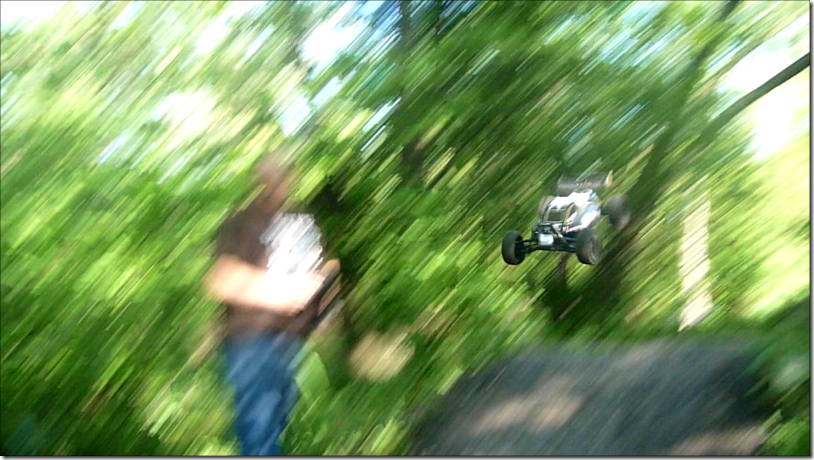 In my last review I mentioned that I didn't mind handing over my R/C cars to just about anyone.  This time, it wasn't because I was worried about the car.  I just plain forgot to offer because I was having too much fun with it? So what is a 1:10th scale buggy with 1:8th scale wheels like? Read on…
From: Kyosho
Direct Link: DBX VE 2.0 Ready Set
Review, pics and movie by: GregZ (with capturing assistance from Brian)
Specs:
Completion Level: Ready-To-Run
2wd or 4wd: 4wd
Electric or Gas: Electric
Scale: 1/9th (It's a little odd, 1/10th chassis with 1/8th scale wheels)
Vehicle Type: Buggy
Bearings: Ball Bearings
Length: 475mm (18.7in)
Width: 300mm (11.8in)
Wheelbase: 320mm (12.6in)
Gear Ratio:  9.46:1
Weight with body : 2,370g(5.2 lbs)
Motor: Orion Vortex 10 Evo brushless
Street Price- $369.99
Primary Competition: Thunder Tiger 1/8 EB-4 G3 or a Traxxas Slash 4×4 1/8th scale buggy conversion.
Test Drivers: Greg Z. and customers of Orland Park HobbyTown USA
Test Venues: Parking lot at Orland Park HobbyTown USA, Skate Park, and secret dirt test facility.
What's In The Box: Assembled buggy with painted and trimmed body, KT-200 2.4ghz FHSS radio system, manual, tools, spacer for thicker battery packs, and 2 sets of decals.
Build Quality:All screws tightened, nothing loose. No weird camber or toe angles. Tires well glued and remained in place.
Set-up Notes: Dropped 4 AA into the transmitter and a charged battery with Deans connector.
Suspension: The first thing that I saw that I liked was the threaded shock bodies and the aluminum adjusters and shock caps.  The shock body itself is plastic but the aluminum caps really helped keep the tops from popping off. The arms where designed by Kyosho to be interchangeable with any of the four corners.  There is a top arm and a bottom arm but otherwise they'll work front,rear, left, or right.  The steering knuckle attaches to the suspension arms via a pivot ball. Camber can be adjusted by turning the pivot ball into or out of the suspension arm.  The arms themselves are quite pliable.  I was worried they might give a little too much and cause dog bones to fly out but that was not the case.  There was great control on the pavement and bumps and jumps were handled with ease in the dirt.  In the 1:8th scale buggy realm, the chassis bottoming out on big landings is the name of the game.  The chassis on this buggy held up well and didn't suffer from any noticeable twists or bends.
Tires: It came with very soft square block tires.  I'm using the past tense as the compound was VERY soft.  I did have a brief chance to try them in the dirt and they hooked up well.  The majority of bashing started out on pavement and I wore them down to slicks within the first 3s battery pack.  These newly formed slicks performed GREAT on asphalt!   However, if you plan on being on the street and off road, your going to need an extra set of tires.  The buggy is equipped with 14mm hex drives that use 17mm adapters to allow your typical 1:8th scale wheels to be used.  For my later off-road testing I used a set of  Pro-line Trencher SC tires.
Turning: A refreshing bit of "nimble" after having driven an E-Revo and Stampede for quite some time.  Granted these are different types of vehicles but I started asking myself why I haven't tried buggies like this.  It did NOT have that soft and super cushy feel like my 2wd slash.  This DBXsure does feel like it has lots of strong, nimble steering.  The steering servo saver is adjustable and it wasn't too loose and the steering servo did not feel underpowered or slow.
Radio: The KT-200 is a sufficient radio.  It was light, I liked the foam wheel and tension.  It isn't a radio that is going to support any type of model memory but at the same time, I really like the analog dials.  They weren't too small so it didn't take any annoying pinching to get a grip on them and make adjustments.  I like having the dials for throttle EPA as it allowed me to quickly dial back throttle and hand it over to my 3 year old for testing.  The power switch did seem backwards to me though.  You push right to left to power it on and my natural inclination was to always slide it to the right to turn it on. I know a lot of folks feel the need to have some sort of floppy rubber antenna on their radio to feel like it will work right but I'm glad it's a simple little bump at the end that'll never break off.
Power: Kyoshois using the their Orion system. I like the fact the speed control comes with the fan and is prewired with Deans connectors.  The idea behind the buggy is a 1:10th scale size chassis with 1:8th scale size wheels and tires (Or these days, a short course with smaller sidewall tires and a buggy body with wing). With that, it's a 540 size 2s-3s brushless system.  The system is also Nimh capable but I had only test with 2s and 3s.  The impression from most everyone that drives the buggy is that it just plain rips.   I'm hoping the video translates this pretty well.  On a simple 20c 5000mah 3s lipo pack we hit 42mph on the GPS on stock gearing and it got there FAST.  I was trying to figure out just why the buggy could accelerate so quickly.  It isn't an oversized 550 type motor system. What it came down to was weight.  This thing is very light.  It is about 1/2 lb lighter then a Slash 4×4.  With the testing done with short course tires, I'd REALLY like to see what this thing is like with a short course body!
Jumping: I had to break this out in it's own category. The buggy just plain loves to fly.  The first jumps out of the box surprised the heck out of me.  What I thought would be small test jumps immediately went into large leaps into the air.  In the first videowas a half speed test figuring it would be big but not crazy.  I was wrong, the thing did a 40+ foot backflip jump.    It is very predictable in the jumps.  It is backflip capable  but you have to commit to it before the jump.  It's not something you'll be able to do decide on mid jump and "punch" the throttle (unless it is a BIG jump).  It's tendency was to nose up on nearly all jumps and was very easy to fly stable and even.  I never felt like I was fighting the buggy to get it's attitude right for landings.
Post Mortum: The first battery pack was an interesting experience.  After the first test jump, backflip, and long jump, I felt pretty confident in the buggy.  However, not even 1/2 way through the first pack I pulled off a nasty landing.  Completely nose up, landing on one rear wheel, no suspension to soak anything up on landing.  Clearly I had a loose wheel after the landing.  I babied the buggy back thinking a tie-rod popped off or perhaps broke.  Nope, it was the mount.  The upsetting part was it wasn't the shock tower.  The rear toe link mounts to the bulkhead so now I had to replace the entire rear gearbox!  I was NOT happy with this design decision one bit.  However, after buying the replacement for $8 and starting the job, I realized it was only 6 screws and the whole gearbox comes off the chassis and 4 more screws and I'm done.  Not really very labor intensive compared to a shock tower replacement and not expensive either.  So I got over the design decision.
After replacing the part I proceeded to abuse the buggy with jump after jump on pavement.  It took a hell of a beating and the first thing to let go was the motor mounts grip.  It took a full speed launch at the skate park and a 20ft high landing onto concrete to do it but it caused the pinion to back off and strip the spur gear.  During the replacement I noticed only 2 of the 4 gears are used in the diff. This didn't cause any problems but it'll take longer term testing to see if this is really an issue.  After the spur was replaced I tightened down the screws really well and the motor mesh never backed off again.  Part of me believes if I had torqued those a little more out of the box and added thread locker, it may have never happened in the first place.  Further abuse in the park lead to no damage.
While doing a bunch of jumping at the HobbyTown USA, everything help up great and I didn't "break" anything until a overshot the landing area and sent the buggy crashing into a saw horse at the end.  It was a plastic saw horse and the buggy sent bits of the sawhorse flying after the impact.  The only thing that let loose was the shock cap as it ended up popping off.   After a day of pavement bashing I ended up going home and did some some front yard bashing.  I was ripping up and down the side walk and made one small overcorrection and sent the buggy full speed into a metal real estate sign.  It was the front corner so the buggy went flying into the air spinning like a frisbee.  Damage = broken shock shaft.
Finally, a day of jumping on dirt and finishing back at the skate park.  Jump after jump in the concrete park and the buggy held up great.  I even pulled off a few backflips out of the bowl, over the fence, and out of the park!  The worse of it was a slightly bent (but still functional) rear center shaft and rear shock shaft.
Best Mod Under $5: A new zip tie– Relocate the power connection and re zip tie it as the little hook they tie-wrap off of originally doesn't keep the wire in place.  It just keeps popping off.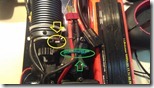 Best Mod Over $5: Silicon oil for the center diff – I love doing wheelies with my brushless cars but in this case, the center diff has no oil and the car puts ALL the power to the front on launch.  I tried 50K in the center at first and it gives a really nice launch without lifting the rear wheels.  At first I thought I'd want to go thicker for wheelies but I was really enjoying how quickly the buggy would reach full speed just by mashing the throttle.
Conclusion: This thing is fast and light and it is sold at a great price point.  About $50-$70 less then a Slash 4×4.  Granted, you don't get the battery and overnight charger but I say put that money towards a lipo and nice charger and your on your way to great little basher.  I say basher because you'll need to add almost 2 lbs to it to race in 1:8th scale classes.  It is a bit of a hybrid which but it is all fun!   I'm someone who agrees with Cubby regarding scale vehicles and the hobby in general but in this case, driving this thing was just plain fun.  Also, it really does seem that body mounts are all that is needed to make this into a 4×4 Short Course.  We might need to do a follow up article on how to go about doing that as I don't get the feeling we'll see Kyosho release this as a short course.
---
Ratings
Time To "Bash" –10/10–Install 4 AA batteries, a battery pack, and drive.
Workability – 8.5/10– For a 4wd car I found it very easy to work on for replacing the center spur, adjusting mesh, and taking off the rear end.  For me, the phillips head screws is a non-issue but I feel it WILL be an issue for others who accept nothing less then hex heads.  With that, chances are you have cheap phillips head and it may lead to stripping screws.
Car Show Rating – 8.0/10– The body is ready to go and looks good.  Not a show stopper but not ugly.  I mean, it's a non-scale looking buggy so looks only go so far.
Bash-A-Bility – 9.0/10– Early on I was worried but after beating on it a LOT, I say it is very durable.  Anything that let go was acceptable based on how heavy the beating was.  I've had my favorite Traxxas vehicles crack under less pressure.
Fun Factor – 10.0/10 – I really had a blast with this thing.  The agile steering, lighting quick acceleration, speed, ease of jumping, and overall durability just meant I could focus on fun.
Handling – 9.0/10– Again, fast and tight steering.  Great handling on pavement as well as off-road.
Power- 9.0/10– You'd think with the 1:10th scale system it would have been underpowered and it just plain wasn't.  It was surprisingly quick.  Temperatures remained low on the motor due to gearing and low on the speed control due to the fan.  I honestly think 1 or 2 more teeth on the pinion would be manageable on this buggy as long as you pay attention to temps.
Value- 8.5/10– At the street prices I'm seeing, I think it is a great value.  Your not forced to buy into a lesser nimh pack and overnight charger and ANY good hobby shop will be able to set you up with a better choice of battery and charger to meet your budget if you don't already have these items.
Big Squid Rating – 9.0/10 – I had a blast and I'm keeping it in the fleet!  Big jumps that  I would be nervous to take in my Slash I can hit with this thing at great speeds and control resulting in more positive reactions from spectators!
For more pics, please check out the unboxing article
Finally, a compilation of jumps we did with the buggy.  I highly recommend watching it just for the backflips out of the skatepark!