Kyosho FAZER VE Porsche 918 Weissach Package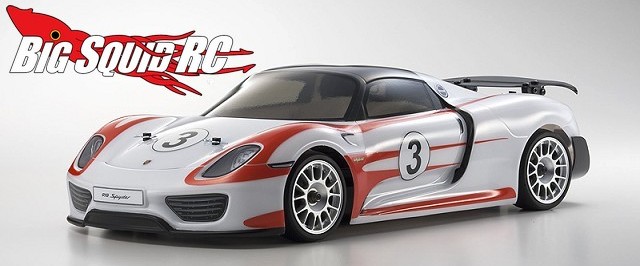 It's all about looking as good as it performs these days. The latest car from Kyosho is a good example of this. The Kyosho Fazer series VE Porsche 918 Weissach comes with a highly detailed body on the outside, with Orion brushless power on the inside.
The Porsche hybrid supercar is known for smashing the lap record on the Nürburgring, now it is available to you for breaking the lap record around your cul-de-sac. Some of its features and specifications include-
* Syncro 2.4GHz radio gear
* Completely built and ready to drive
* Pre-painted body with stickers applied
* Sealed diffs and tranny
* Comes with NiMH battery and charger
* 2400kV Orion brushless motor
* Waterproof
The Fazer has a part number of #30917T2-B, it is priced at $309, and you can get full details over on the Kyosho America website.
Click Here to read about more Kyosho products on BigSquidRC.