Kyosho is Back in the Rally Game!
Want to drive like Travis Pastrana? You might not be able to hop behind the wheel of a real Subaru Rally car, but Kyosho has released a 1:10 Subaru that is sure to make rally fans happy. Based on the DRX (Drive Really Xtremeley?) platform, this car is loaded with cool features. The drive-train uses three differentials to distribute the power to all four wheels. The power is put down onto the ground by some gnarly looking rally-treaded tires that are wrapped around wire spoke wheels. All the suspension components match front to rear, so finding the right components is a snap. The suspension is also highly adjustable, and allows for stability on dirt and pavement at any speed. The power is produced by a GXR .18 engine and is delivered by a racing type 2 shoe clutch. A 103cc fuel tank allows for upwards of ten minutes of runtime. When it's time to stop, the dual disc brakes slow the car down. The DRX rally car is currently available in (very detailed) Subaru livery.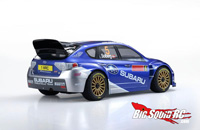 The body itself has functional light buckets and spot-on decals for all the scale fans. Thanks to the downward angle of the exhaust pipe stinger, there's no need to worry about putting a hole in the body or having to clean exhaust residue off the exterior. It should be available in the United States some time this September. If you want to see it running, check out this video Kyosho made, it looks like the real deal in the dirt and on tarmac!