Kyosho KF01 Formula One Nitro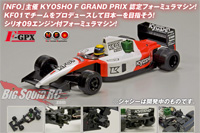 New from Kyosho is the KF01 GP Formula 1 nitro vehicle! It's got a 3mm aluminum chassis, and come in kit form, though I believe it will include a Siro motor. So all you need is electronics and a starter. I haven't seen anyone racing Formula 1 at the local on-road truck, but it would be cool to see.
You can hit the Kyosho America site for more details.