Kyosho MF-015 F1 chassis review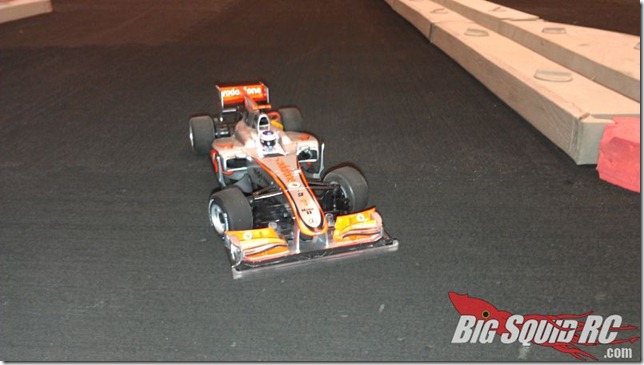 Sometimes people think I'm crazy but I just don't mind handing over many of my R/C cars to just about anyone.  The beauty of this car alone made most people shy away.  It wasn't until I told them it was a review car for Big Squid that they'd take the wheel.  Assuring them not to worry if it broke (as that is exactly what we wanted to know) they took the helm at 4 different venues with only a loose rear wing to show for it. So what's it like to drive one of these things? Read on…

From: Kyosho
Direct Link: MINI-Z MF-015 F1 racing chassis
Review, pics and movie by: GregZ


Specs:
Completion Level: Ready-To-Run
Recommended Environment: Smooth floors, low pile carpet, RCP foam track
Drivetrain: 2WD
Vehicle Type: F1
Liveries- #1 and #2 McLaren and recently released #7 and #8 Ferrari
Size/Scale: 1/24
Bearings: Plastic Bushings
Length: 199mm (7.8in)
Width: 82mm (3.2in)
Wheelbase: 130mm (5.1in)
Tread (F/R): 68mm / 66mm (2.6/2.5in)
Gear Ratios: 7.3, 6.3, 5.5, 4.9:1
Weight: 170g
Motor: X Speed Motor V
Street Price- $229.99
Primary Competition: Prior F1 Mini-z chassis from Kyosho
What's In The Box: MF-015 chassis with X-Speed motor, McLaren body, different size pinions and motor spacers, battery cover and body removal tool, wheel nut/pinion puller/ tool, 2.4ghz pairing stick, clear front bumper and tools to mount it.
Build Quality: As expected, perfect.  Nothing loose or stripped, wheel nuts not overnighted, motor wires properly routed.
Test Drivers: Greg Z., Chicago Mini R/C club drivers, customers of Orland Park HobbyTown USA, and members of a private Mini-z club.
Test Venues: RCP track at the Chicago Mini R/C club, RCP track at Orland Park HobbyTown USA, dNaNo black carpet track at Al's Hobby Shop in Elmhurst, IL, and backside of CRC racing carpet at a private club.
Radio: None – You must supply your own 2.4ghz ASF radio or use a KO Propo Mini-z module.
Set-up Notes: Charged a set of 4 AAA batteries, installed, paired with a KT-18 radio and ready to go.
Suspension: It is pretty clear that scale appearance is the priority with the Kyosho F1.  Scale appearance and 1/24 scale mean you don't have a lot of room for complex suspension systems.  What you have is kingpin setup up front and two long suspension plates on the side that attached the rear end of the car to the main chassis.  There are 2 small springs in the back that take up the load.  You aren't putting all the load on the plastic plates.  I will say right out of the box, the smoothness of the front kingpins was poor.  It is common in a mini-z to replace front suspension pins with polished stainless steel pins to improve smoothness.  In the case of this car, the arms would literally stick and you wouldn't get full suspension movement. These kingpins were not smooth at all. Over time they wore in but the performance out of the box is unacceptable.  As far as the rear end, the car is prone to lifting a rear wheel in turns.  So you are going fast and hold the throttle while turning, the car might slow down suddenly as a rear wheel has lifted.  A ball diff and/or carbon fiber rear suspension plates will fix this.
Tires: Kyosho updated the tires to a slick pattern mold vs the ribbed tires the full scale cars use to run.  This car came included with the softest rear tires available (20 degree) and 40 degree tires up front.  At first the car was all over the place on carpet as well as RCP foam. Even with the optional gyro installed it was a little tough to drive.  Thankfully, after about 1 hour of driving they settled in and hooked up really well.  I thought softer tires up front where going to be necessary.  After breaking the tires in, 40 degree tires up front do feel "just right".  One item to note, new tires do NOT come with the white logos on them so you may want to buy a new set just to run the car and shelve the others for display.  We did find a part number that allows you apply your own though, #MFD04.
Turning:  At first it feels like you are driving a 20ft limo from the back seat.  The front sits SO far out and the car is SO much longer then a normal Mini-z.  The speed of the steering is insanely quick with the new 2.4ghz board and plenty strong. Stock and without the gyro, the car initially pushed a LOT and you'd have to come to a near stop to make a hairpin 180 degree turn.  After the tires broke in, the turning was much more predictable and could be done at much higher speeds.  You would probably need to move to a softer front tire if you want what most people expect in an F1, lightning quick turn in at high speeds. With the optional gyro the car had a lot of push. The ICS connection and PC software can adjust the gyro gain and you'd probably want to lower it. My guess is they have it setup this way out of the box so as soon as you install the optional gyro, you notice a lot of steering correction.
Power: The X-Speed motor is the faster 50 turn version of a typical 70 turn mini-z motor.  I thought the extra weight of the F1 over a typical MR-03 was going to soak up this extra speed but I was wrong.  The car scoots.  On the tracks we run on, it has more speed then most people would be able to handle.
Broken Parts:  Nothing really BROKE but the rear wing sure did loosen up.  I'm sure one or two more hits and it would likely break off.  Your going to have to chalk that one up as the price you pay for scale appearance.  Thankfully they include the clear front bumper. I and other drivers had plenty of good high speed hits against RCP rails, wooden rails, and rubber hose rails.  The front end held together but I would NOT advise running this car at speed without the front bumper.  Otherwise the car is rock solid.  The suspension plates did not crack, the steering held together when grazing  walls at full speed.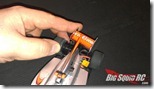 Features : Gyro & Chase mode – One of the new features is gyro connector and chassis mount location for the optional gyro.  I happened to have one lying around so I went ahead and installed it.  I'm glad I did as the car was very difficult to drive at first.  Those tires really do need to be worn in before they work well.  For beginners the gyro was clearly helping in what would be a squirrely car.  After the tires break in, the gyro really isn't necessary.  I'd say you only need it if your surface was slippery (tile or wood floors).  As far as Chase mode,  I really dig the feature but until everyone happens to own a car with the feature AND has a 3ch transmitter, no one will race this way.  We all kind of wish it worked more like a boost meter in a video game where it only boosts when you activate it.  Instead it activates and works for 3 seconds. We'd rather quick 1 sec bursts down the straight.  With the optional ICS connection you can increase and decrease how many of these boosts you get.  I can see it being fun for handicapping a field and the strategy on when to use it.
 Best Mod Under $5: Stainless steel king pins – This will make the front end suspension action much smoother and more consistent.
Best Mod Over $5: Ball Bearings – At this price point it kills me that they don't include the 7 ball bearings the car would require.  For our test drives we used the stock bushing and they worked fine.  But that will only last so long.
Misc Notes:  Without a doubt, this car has the looks.  Everywhere I took the car and test drove it, people continued to comment on how awesome the car looked.  Chances are if you already own a 2.4ghz ASF transmitter and like F1, you'll want one of these.  If you don't own a 2.4ghz ASF transmitter, then you'll probably need to be a REALLY big F1 fan to justify the $310 entry point.
SUMMARY
Time To "Bash" – 10/10–Install 4 AAA batteries, bind the car, drive.
Workability – 9.0/10– Not a whole lot of parts here.  No tricky access areas.  For a small car there are no ninja skills required to fit certain screws in.
Car Show Rating – 10.0/10– Painted and decaled to match the full scale car INCLUDING the logos on the tires.
Bash-A-Bility – 8.0/10– In the hands of a beginner, I'm only going to worry about cosmetics.  The front end is well protected.  The only weak point would be if someone rear ended the car.  If you are driving solo, you'd have to reverse into something pretty fast but it would sheer off the rear wing.
Fun Factor – 8.0/10 – Start at 8.0.  Add +1 if you are an F1 fan, +1 if your favorite team is represented, and –1.0 if you don't have a smooth surface to drive it on.
Handling – 7.0/10– Even with the sticking king pins the turning was predictable.  I do wish the rear wheel lift didn't happen.  Once the tires are broken you'll enjoy racing it but you'll probably end up wanting to upgrade the car a little if you are looking for more of an MR-03 driving experience.
Power- 9.0/10– Just the right amount of speed to be quick but not too quick.  We tried it with a 7.4v lipo as well and it REALLY hauled.  Way too fast unless you have 25+ foot straightaways.
Value- 7.0/10– No bearings on a $220+ car.  I just can't accept that.  Otherwise, the car is well made, has great electronics, looks fantastic, but will probably have you hesitating to tell people how much you spent on the thing.
Big Squid Rating – 8.5/10 – The looks more then make up for some of the shortcomings that come with compromises to remain accurate to scale.
For more pics, please check out the unboxing article of this new Kyosho F1 chassis.
And finally, a quick little video of us running the new F1 on RCP track.