Kyosho MF-015 F1 chassis unboxing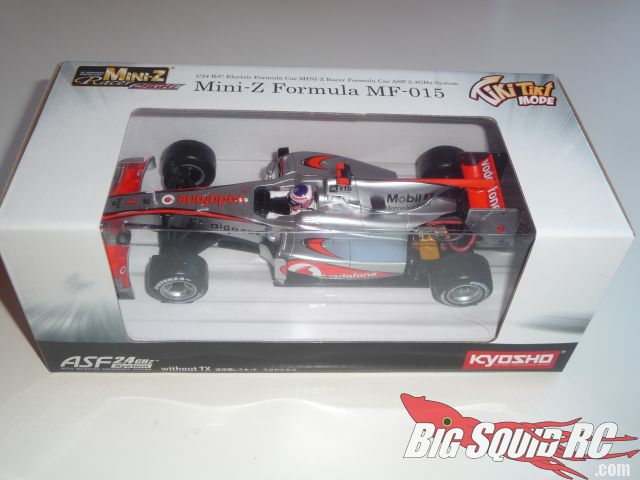 I picked up my personal Kyosho F1 this Saturday during a race at HobbyTown USA in Orland Park, IL. The first impressions by all the Mini-z regulars were how awesome the car looked. The scale looks are very impressive in person.
The car comes packed with a clear bumper and screws to mount it. It may take away from the looks a little but if you're racing this car, you are going to want to install it. With this particular F1 body the rear wing is removed along with the main body instead of remaining behind on the chassis. The new 2.4ghz board includes the new Chase mode, ICS connector, and gyro connector. The gyro is installed where the crystal use to go (just south of the board in the picture). The new board is also much shorter than the old AM board. With this 2.4ghz package they elected to route the receiver wire flat so no need for through-holes in the F1 body.
The underside shot of the body shows a little more detail on how the rear wing mounts. The rear end of the car remains the same as well the underside battery bay.
My favorite pic has to be of the car head on. Here you can see the front suspension also remains the same. In the comparison shots of the old F1 and this new one, you'll see the difference in board length. Also, you'll see they went with the same front servo setup. I was psyched to see they went with an MR-03 type board (2.4ghz, ICS, Gyro connector) but it appears they didn't transition to the coreless servo motor. My guess is the MR-03 required far more gearing and it would be difficult to pull this off in the F1 with the tight space up front.
In the end, what we are getting is a new F1 body design and an updated electronics package that includes ASF 2.4ghz, ICS connection, gyro connection (and a place on the chassis to mount it), and chase mode. I will note I was happy to see tires that could be raced where included. The rears are 20 degree tires (Kyosho's softest) and 40 degree up front.
If you live in the Chicago land area and are looking to see this car in person and take it for a test spin, the Chicago Mini R/C club will be touring with it at their upcoming races in Elmhurst, Berkeley, and Orland Park. We'll also be looking for test drive input from Mini-z enthusiasts, larger scale R/C drivers, as well as beginners for our upcoming review on Big Squid!