Kyosho Mini-z Moto Racer unboxing and video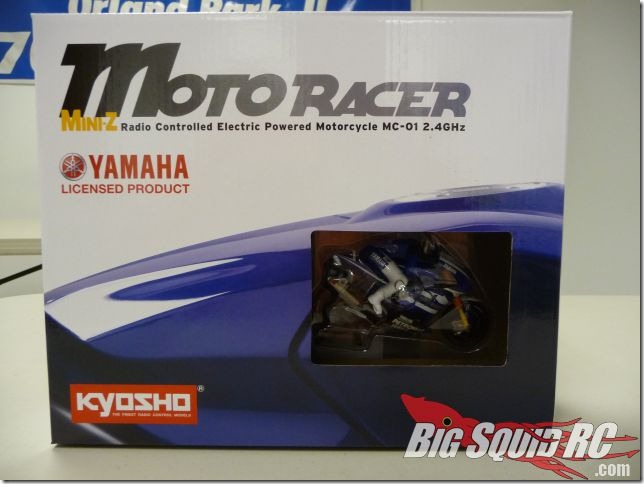 The Kyosho Mini-Z Moto Racer bikes finally came out last week and I eagerly picked up 4 of them to add to the Chicago Mini R/C fleet.
What you get inside the box is the new KT-19 transmitter, the motorcycle itself (assembled and ready to run), a USB charger (mini-USB on the charger, standard USB on the power side), a 120mah 1 cell 20c lipo, plastic tweezers, and an allen wrench for adjusting the front forks.
Detail on the bike is great!  The side bars don't take away from the looks too much. They are not removable.
Getting a little closer we take the rider off and get a shot of the tank detail, front and rear end.  You've got a cast wheel up front.  Would it have been cool if it was actually a little mini chain drive rear end?  Of course!   Does the fact that it isn't rob from the looks?  Not really.
Kyosho is using standard mini servo for the front.  The battery door clips in.  A quick test to see if one of the many mini-lipos I had would fit resulted in failure.  The kyosho battery doesn't have the plastic end cap and shaving down the fins on 2 of mine couldn't get it too fit.  Some folks are taking the plastic end caps off on their own but I've been too nervous to try it myself.
The new KT-19 FHSS 2.4ghz radio system is styled after the KT-18 we've been using for Mini-z and dNaNo vehicles.  They've integrated a stand now.  Adjustments include Low and High speed gyro adjustments as well as steering trim.  4 AAA batteries are used to power the radio and they retain the "magazine" loading style of the battery tray.
Finally, our unboxing video and some running in the store, our RCP track (I need lots of practice) and some pavement running outside.  A quick note from most everyone who saw it run, it's surprisingly fast!  More details also available on Kyosho's website.