Kyosho RB6 Hop-up Parts from ST Racing Concepts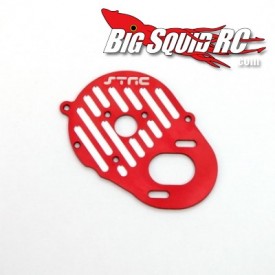 The Kyosho RB6 buggy has really started taking off and STRC now has some of their uber hop-up parts for it. We've tested many different STRC hop-up parts and they all have proven to be very high quality. If you are looking to put the best on your Kyosho take a look at what STRC now has to offer for your RB6.
First up is a new motor plate. You can get the motor plate in a variety of colors (red, gunmetal, and blue) and it's been CNC machined out of high quality aluminum. Fins in the plate help to dissipate heat and it has longer motor screw slots to give you more gearing options. Street price on the motor plate is $11.
ST Racing Concepts has also created some new rear hubs for the RB6. These are also available in multiple different colors (red, gunmetal and blue) and come in zero, .5, and 1 degree of rear toe. The hubs have been CNC machined from high-grade aluminum and feature extra camber link holes for even more adjust-ability. For extra attention to detail- the bearing holes are CNC machined after anodizing to ensure a precision fit, and the set-screw on hinge-pin design makes for a perfect fit with reduced wear. Street price is $25 per pair.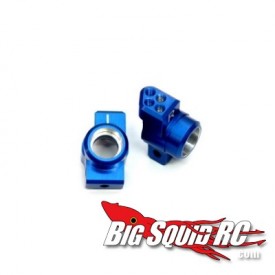 If you are looking to put maximum tuning options in your toolbox, STRC is also selling all three toe configurations (zero/.5/1 degree) of the rear hubs as a set for only $69.
To get more information on these pieces along with the rest of the uber parts that STRC produces hit up their official Website.
Looking for more STRC news? We have it, check out THIS link.