LargeScaleRC.com Power Jam Event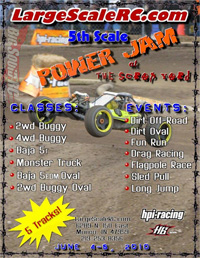 Our friends from LargeScaleRC.com have just sent over our invitation to their upcoming Power Jam event on June 4th and 5th of 2010 in Monon Indiana! They are going to have a TON of different types of races for all sorts of 1/5th scale rc vehicles! Sounds like a real good bash time! So if you have a HPI Baja or MCD or FG, this is going to be the place to be!
For more information, head over to the LargeScaleRC.com site and check it out!