LaTrax Rally Review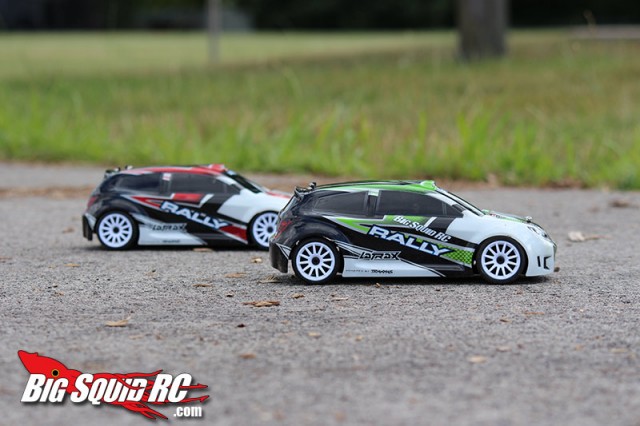 When the LaTrax 1/18 Rally was announced by Traxxas, it caught everyone by surprise. Traxxas was about due for a new vehicle, but this was not what we were expecting. So is it what people want? Will it keep the hungry Traxxas fans satisfied? It's not the direction we were expecting, but is the right direction? Keep Reading to find out…
From: LaTrax
Direct Link: LaTrax Rally
Review By: Brian
Pics By: Brian
Specs:
RTR or Kit: RTR
Age: 14+
2wd or 4wd: 4wd
Chassis: Plastic
Shaft or Belt: Shaft
Electric or Gas: Electric
Waterproof: Yes
Scale/Size: 1/18th
Length: 10.4″
Wheelbase: 6.5″
Weight: 19.5oz w/battery
Motor: 370 Brushed
Speed Controller: Waterproof Traxxas
Low Voltage Cut-off: Yes
Radio: 2.4GHz
Differentials: Front and Rear
Driveshafts: Front and Rear Universal
Shocks: Oil-less, with coil over springs
Screws: Phillips
Bearings: Plastic Bushings
Tires: Slicks
Battery: LaTrax 5-cell NiMH
Part Number: 75054
Top Speed (measured by BSRC): 17mph on 5-cell NiMH, 20 mph on 2s Lipo
Warranty: Traxxas Lifetime Electronics Warranty
Street Price: $149.97
Primary Competition: HPI Micro RS4, Team Associated APEX Mini Touring, Helion Animus, Atomic Metal Mulisha Rally, Himoto 1/18
What's Needed To Complete: Nothing, it comes with everything you need to get up and running.
Build Quality: Everything looked good and well assembled out of the box. No gear mesh issues, everything was working.
Test Drivers: Brian, Tim, Cubby, Adam the Intern, Several random kids.
Test Venues: Parks, Water Fountains, Parking Lots, Streets, Dirt.
Set-up Notes: There wasn't much we could really adjust on the Rally. What you see is what you get. If you want to run a LiPO , the battery bar no longer fits, there is just no room. That being said, once you shoe-horn the lipo into the battery compartment, it isn't going anywhere.
Turning: The LaTrax Rally uses a Bellcrank Steering system with a built in Servo Saver to get the tires around. We did on occasion notice that the wheels would turn, or be turned when the server was tracking perfectly straight. The servo saver isn't adjustable, so there was no way to tighten it down easily. You could try throwing a few washers under the spring to tighten things up a little. The rally did navigate well while trying to drift corners and had no problenm providing plenty of doughnut action.
Jumping: In the air you had very little control if any. The small tires don't provide enough mass to help tilt the nose up or down with the throttle, so you really need to get the feel for the jump and adjust your speed before leaving the ramp. With some practice, you can get the jumps down without being too much nose in or nose to the sky.
Bumps/Whoops: We were a little bummed that the rally is more of an on-road vehicle. It really isn't something you want to be taking bumps or whoops with. Not that we didn't as you can see from the pictures, but it's way to low to the ground to tackle most obstructions.
On-Road: On-Road is where the LaTrax rally is best. Pavement and carpet provided the most fun and easiest to drive.
Grass: Not going to happen.
Off-Road: even though it's a rally car, even tiny debris or dirt had you high-centering often with your wheels spinning, so we are a bit bummed that your rally isn't really meant to get down and dirty. Even relatively well groomed dirt gave us trouble.
Tires: The stock tires are made from a pretty hard rubber, and while the provide enough traction on-road, you will have more fun trying to get loose and do some drifting.
Power: The 370 brushed motor supplies a decent amount of get up and go. With our top speeds of 17mph on NiMh and 20mph on Lipo, I think we were more than happy for the size of the vehicle. While all bashers want more power, we never really felt like we didn't have enough.
Radio: The radio looks similar to the standard Traxxas TQi but it isn't a TQi. The radio range on our two test vehicles averaged about 250 feet. It's not super far, but with the size of the vehicle, any farther and you are looking at a dot.
Broken Parts: We have been beating the heck out of our two test cars for weeks. Jumping them off roofs, running them through water parks, bashing them anywhere we could. And the end of some very extreme bashing, one of our motors finally gave up after a hard landing off the top of a playground slide. It's not the wiring, it's something on the inside just decided to stop spinning. The second vehicle first lost the front diff, and shortly after (because if it can still move, we aren't going to stop driving) lost the rear. The parts to fix them are cheap, and like we said, these things have been through the baddest of the bad. So there were no real surprises.
Misc Notes:
As always, we like the built in profile levels on the ESC. Even though the vehicle isn't crazy fast, we like being able to put it in training mode and hand it off to a young kid to play with.
The motors seem to run really hot when you are pushing the vehicles hard. Most of our tests were done in 70-85 degree outdoor temperatures and we believe we had one thermal after a few high speed runs followed by a long set of victory donuts. After letting it cool down, it was back up and running.
The oil-less shocks have you bouncing allover the street if it's not perfectly smooth. We know there are upgrade parts available, but our review is based on a stock out of the box vehicle.
No Traxxas battery plug? Seriously? The one thing we mention with almost every vehicle review is to change your plugs to a Traxxas or Deans, and now we have to mention it on a Traxxas vehicle?
We weren't big fans of the plastic bushings.
Not being able to use the battery strap with a lipo. Seems like something that would of been designed for.
While we understand LaTrax is shooting for a entry level priced vehicle, there are a lot of vehicles at this same price point that come with more upgrades as standard features.
The biggest thing the LaTrax Rally has going for it is the awesome Traxxas Support. Not only do those guys bend over backwards to make their customers happy, you can guarantee part support will be better than most at your local hobby shop and online. That alone is worth a few extra $$ any day!
Best Mod Under $5: Change the battery plug to a Traxxas or Deans. Add a washer or two under the spring of the servo saver to tighten up things a little more.
Best Mod Over $5:
LaTrax has a ton of hopup-accessories, and we are betting the oil-filled shocks and bearings will make a noticeable difference on the vehicle.
---
Summary:
A = Outstanding/Best in Class, B = Above Average, C = Average, D = Below Average, F = Horrific
Time To Bash: C The provided wall charger will get your 5 cell pack charged in just over 3 hours.. that's a long time to wait for anyone.
Workability: B While we'd prefer to not see Phillips screws, the LaTrax has been decent to work on, and most things have been easy to get to.
Car Show Rating: C Scale looks are hot, and the opinion of everyone here is that it looks more toy grade than hobby grade.
Bash-A-Bility: B No broken plastic parts, even after multiple huge jumps and bad landings to concrete. The vehicles eventually gave up, but it was only after some very brutal bash sessions.
Fun Factor: B The Rally is fast enough to be fun, and the scale makes it easy to always have it with you when you heading out somewhere. We would of liked to have seen more ability to 'rally' with our rally car, as it sits it's an on-road vehicle.
Handling: C The servo saver can sometimes cause issues steering in a direction when you don't want to, but if you keep to on-road and not wide open on the throttle, the LaTrax handles ok.
Value: C While LaTrax was shooting for a more affordable line, there are other vehicles at a similar price point with better features and options.
Parts Availability: A It's backed with the Traxxas name. There will be parts and hop up parts everywhere for it.
BigSquid Rating: B- The first vehicle from the LaTrax line proved to be a valid effort. The speed and durability are what new bashers are looking for, plus the support of Traxxas means very little if any down time. For the price we would of liked to have seen a few more 'upgrades' as standard features.
Need more pictures? Check out our LaTrax Unboxing photos here.