Laying Rubber – Adding a Wheelie Bar
After some test hits as a stock buggy last week, my Traxxas Bandit is now beginning the conversion from buggy to drag car. First up is going to be a wheelie bar.
As my experience from last week showed me, a wheelie bar is an absolute must. Even in stock form the Bandit doesn't want to keep the front end down on high grip pavement. I'd expect with mega grip slicks it will be even worse!
I've decided to go with an STRC CNC Machined Aluminum Wheelie Bar kit (part #ST3678WBK), as not only does it look trick but it's highly adjustable. It's also garnered a good amount of acclaim from the racers I personally know. Note that while I have a Bandit and therefore Bandit transmission, it also fits 2WD Slash and Rustler hindquarters all the same.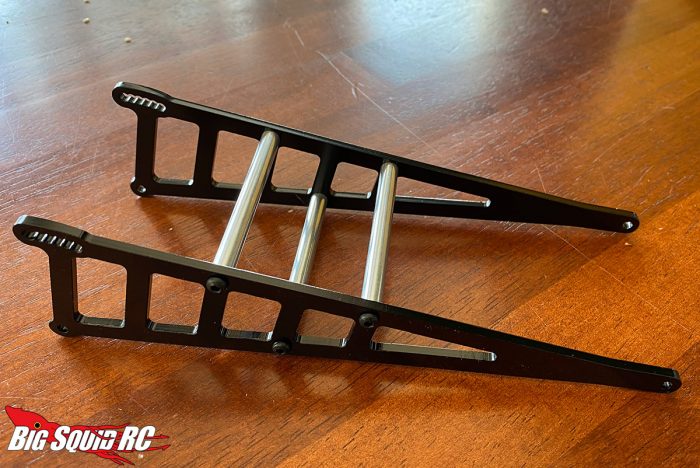 Assembly starts by installing the 3 spacers by way of the included hardware. You've now got the main chassis done.
You can see in the pics above how the rear part goes together. The STRC bar doesn't have typical wheels and instead uses ball bearings. You can configure them two ways- the way that I have with the bearings on the outside or stacked together in the middle.
Once the axle is together, all that's left is attaching to the car.
The bar is attached via two holes on each side of the transmission. No drilling is required and hardware is included to bolt it right on.
One of the features of this wheelie bar is that it's easily adjustable by way of the top hardware. As long as you have a 2mm hex driver, you can quickly change the height/angle with two screws.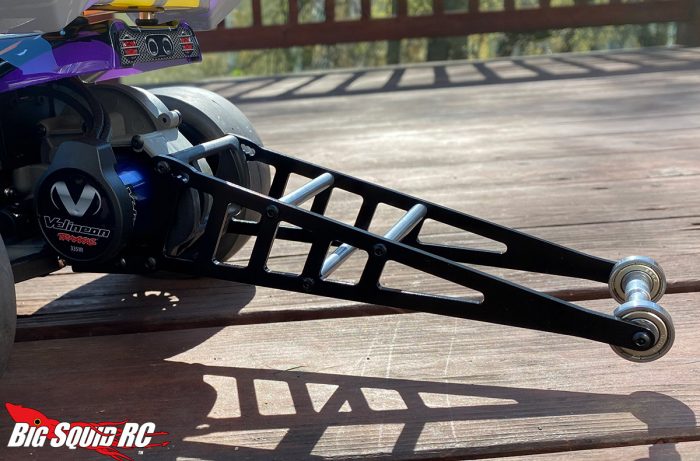 And here it is mounted! Just adding the bar really changes the attitude of the vehicle. Before I take it for another spin though, I'll add the drag slicks. Look for that next week!
No Prep Car Spotlight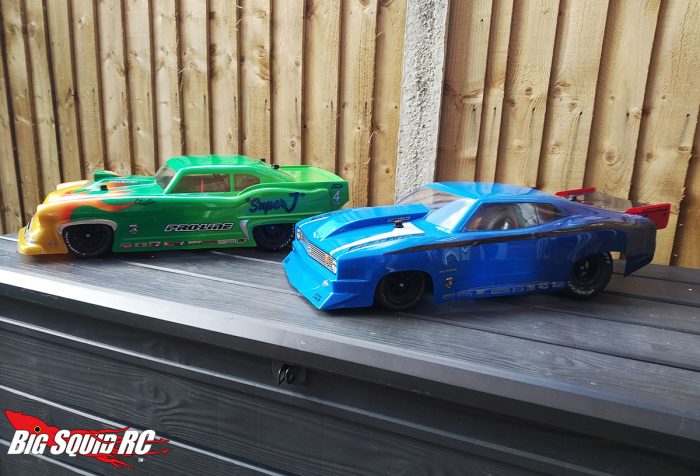 This weeks NPCS comes from reader James C.
We've followed the JConcepts Street Eliminator build suggestion, using Jato big bore shocks with 1mm hole piston/40wt/stiff spring front and 1.4mm hole piston/30wt/soft spring rear.

Shells are Proline Super J and Octane, secured with Proline extended body mounts (6070-00)

The gearbox case is RPM, with stock internals. Tyres are Proline Prime MC clay (green car) and JConcepts Hotties (blue car). Using a Surpass Pro Modified V3 4.5t (green car) and an Orion Vortex Race 3.5t (blue car) – both running Hobbywing BL120a esc with 2s lipo.

From a couple of test runs on a supermarket car park, they're blisteringly quick. Haven't clocked them yet, but we have the Traxxas DTS-1 system to arrange a proper race.

Hope you like them.

Finally, a big thanks to you and the team at Big Squid RC for all the great articles.

Catch you later

James (and Max)
Thank you James (and Max)! Those cars look great. I see both are running big power. I can't wait to eventually start fooling around with super low turn drag motors myself!
If you would like to show off your build here, please send me an e-mail with photos and car descriptions to doug@bigsquidrc.com.
See ya next week!