Laying Rubber – Converting a Traxxas Bandit to an LCG Slash Chassis Drag Car – Rear End
Greetings straight-liners and wanna-be straight-liners! Today we are going to resume talking about my Traxxas Bandit Drag Car project. When we last left it, the car was basically a stock Traxxas Bandit VXL that had JConcepts Hotties tires and an STRC Wheelie Bar installed.
While fun in this form, it's time to extend the wheelbase and bring it up to snuff as an SCT drag car. I'm going to swap the stock buggy chassis for a longer Traxxas Slash LCG setup.
I'm going to just focus on the rear in this article, saving the front for a write-up next week, but here is the full parts list I'm using to do the swap. These are all Traxxas part #'s
1 5832 CHASSIS LOW CG (BLACK)
1 5831A LOWER CHASSIS LOW CG (BLUE)
1 5833A NERF BARS LOW CG (BLUE)
1 5827 BATTERY HOLD DOWN
1 2587 SCREWS CAP-HEAD 3X10mm
1 2542 SCREWS COUNTERSUNK 4X12mm
1 3938 SCREWS BUTTON-HEAD 4X14mm
1 2576 SCREWS BUTTON-HEAD 3X8mm
1 1914R SLASH BODY MOUNT
1 3619 STAMPEDE BODY MOUNT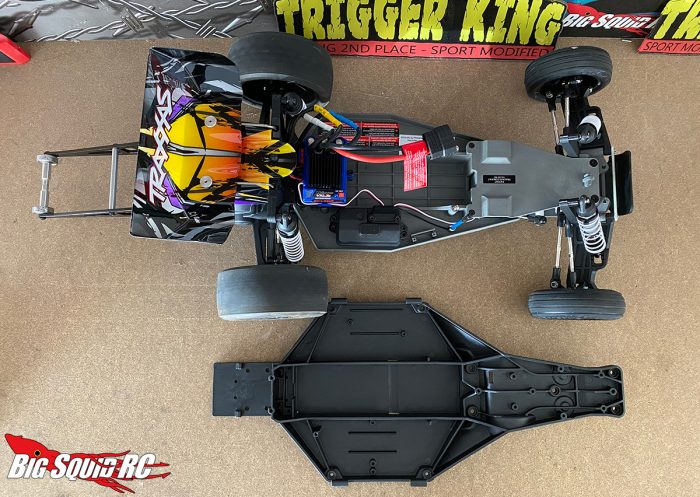 Time to get started! You can see the difference in size of the main chassis plates. Once completed, this will stretch the wheelbase almost 2″.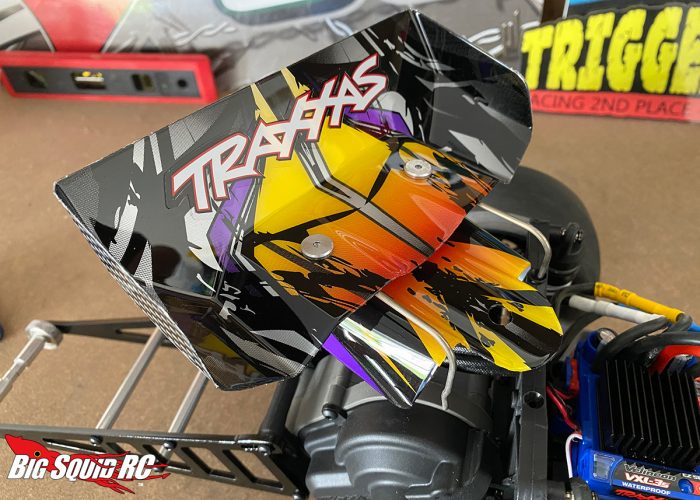 So before you do anything else, you'll want to remove that rear wing. I know this may sound like an obvious step, but my wing was quite hard to pull off as those mounting rails were in there good. I used some pliers and eventually they came off. You will also want to unhook your esc/motor connectors.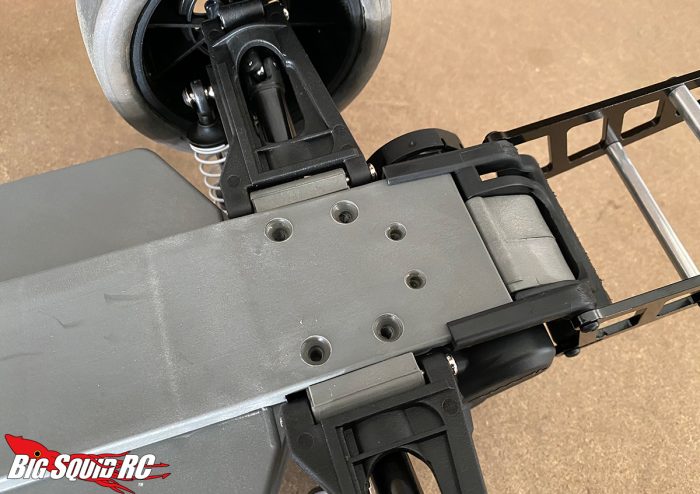 You'll remove the six chassis screws underneath the transmission and the two screws that connect on top.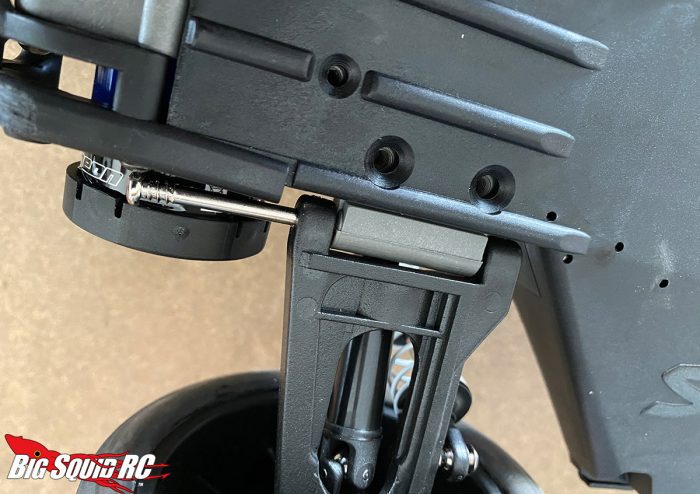 You will then remove the kingbolt that holds the arms to the chassis.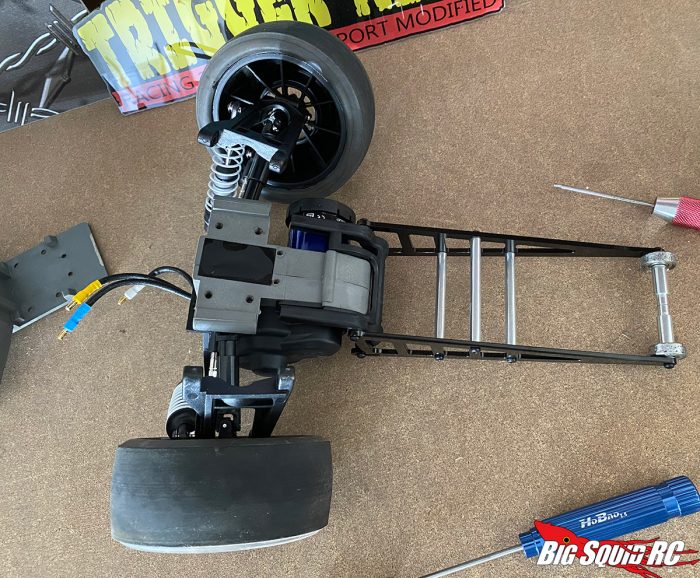 Slide the rear end off the black chassis plate and viola! Easy peezy. You don't even have to remove the shocks or anything.
You'll then slide the Bandit rear onto the Slash LCG chassis and put the screws right back in. It bolts right up in similar fashion.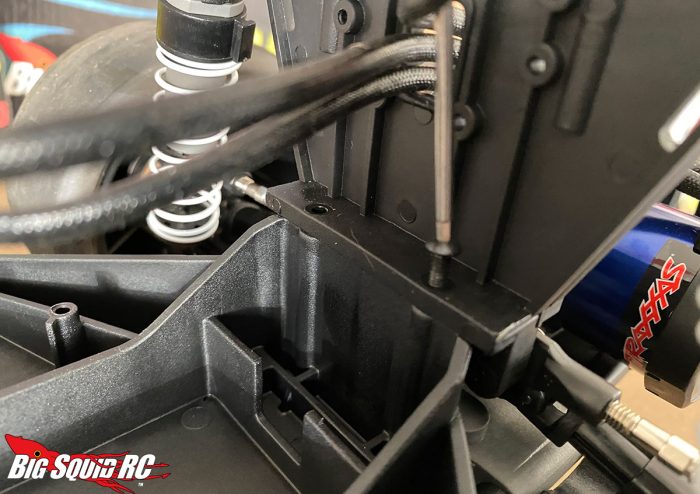 As you attach the top of the rear end assembly to the chassis, plumb your motor wires through the hole.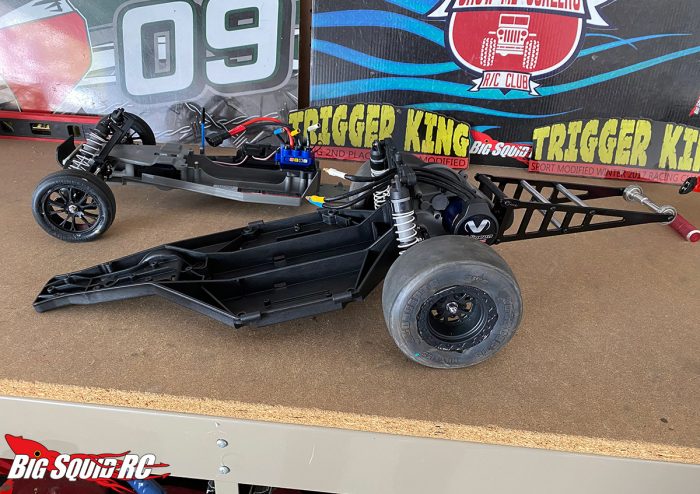 That's it! You are done with the rear. It's really that easy. The Slash and Bandit rear ends are very similar, save for the narrower A-Arms/driveshafts on the buggy.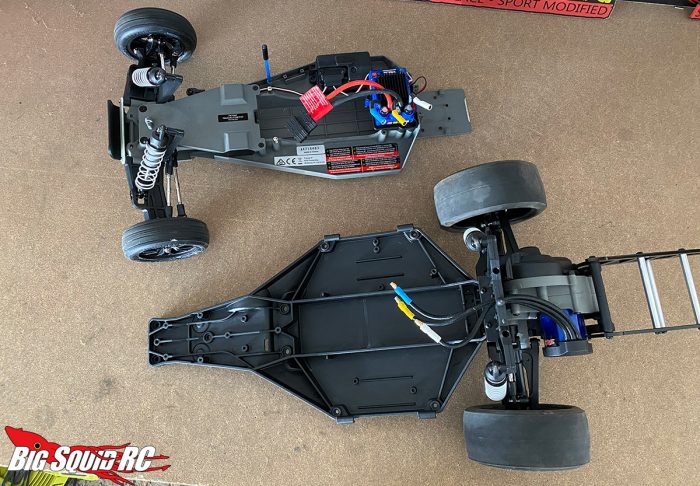 Here's what the two pieces look like side-by-side.
All those other components and hardware bags I mentioned above? They are used for the front end transplant. I will be covering that next week!
No Prep Car Spotlight
This week's NPCS is a double dose of both r/c AND full size. And hey, it's also a Bandit/Slash build that is similar to mine! Reader Tim M. sent this e-mail and pics-
Hey Doug, Big fan of Big squid and really like the drag racing segment you have been doing lately. I thought id send a few pics of my rig I made trying to make it similar to my full size. Its based on a Traxxas LCG chassis, Bandit arms and links, Hobbywing SCT ESC with a Trackstar 6.5T motor, my own designed and 3D printed wheelie bar and hood scoop with a Proline Nova body and Hoosier Tires on JConcepts wheels.
Thanks Tim! You've got two sweet cars there. The 3D printed hood scoop and wheelie bar are nice touches!
If you want to show off your build, shoot me an e-mail at doug@bigsquidrc.com!
See you guys next time!