Laying Rubber – Drag Slicks
This week in Laying Rubber it's time to finally give the Traxxas Bandit some drag racing flavor. Yeah, the wheelie bar is cool, but it needs some meats on the back!
I went with JConcepts Tactic Street Eliminator Wheels and Hotties Tires. Green compound rears and gold fronts, specifically.
As you can see in the pic above, those rear SCT-sized Hotties are a lot bigger than the stock 2.2 buggy tires!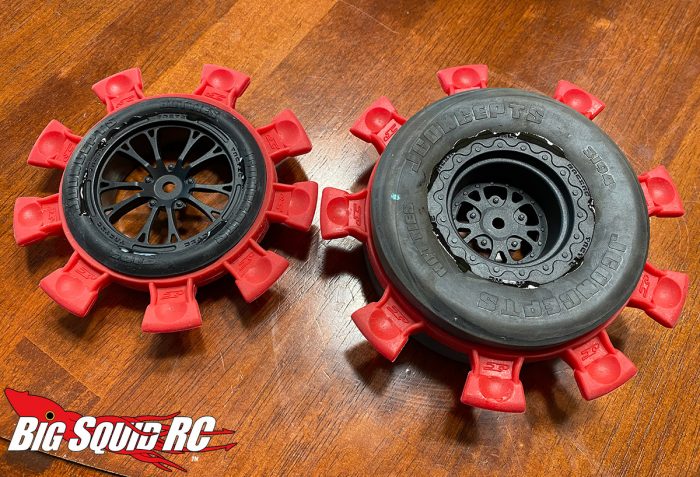 I used thin CA glue and JConcepts tire bands to set the glue. I let them dry over night and they were good. Something to note if you are going to do this with your Bandit- you will want to pick up a set of 12mm hexes as the Bandit has the pins go direct into the stock wheels. This won't work for aftermarket units.
Here they are all mounted up. With a wheelie bar and slicks, the attitude of the vehicle completely changes. Yes, it's not exactly a drag car yet, but it looks like a mean buggy. A mean FAST buggy.
In this form, the car is now a ton of fun to drive. Those green compound Hotties hook HARD and the car rides the bar pretty much anytime you romp on the throttle. Yeah, dropping the wheelie bar would've helped, but I thought it was fun to ride wheelies and trying to really hit a setup was pointless on a vehicle that I was about to totally dismantle.
You'll be able to read about said dismantling in the next Laying Rubber, as the Bandit is about to undergo surgery to make a swap to a Slash LCG chassis. We are getting closer, folks!
Until then, you can see some of my first test hits with the new wheels and tires in the video below here.
No Prep Car Spotlight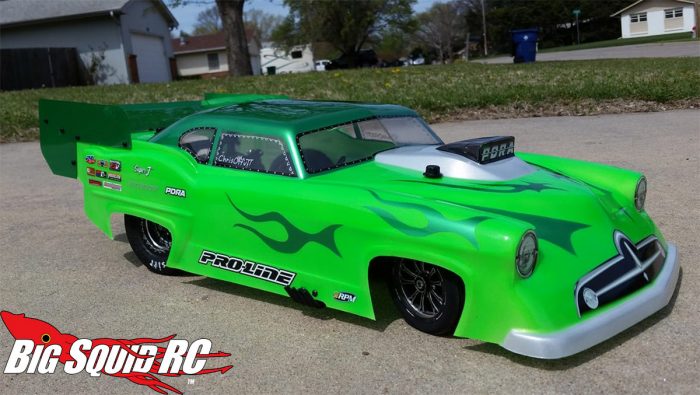 This NPCS comes to us by way of Chris Offut. He's using a Losi 22 4.0 with 3.0 SCT Chassis that's topped with a great looking Pro-Line Racing Super J body. Going by all the pics I see online and that are e-mailed to me, this is one of the most popular SCT/Buggy drag bodies on the market!
If you want your car to be featured here in Laying Rubber, please send an e-mail to doug@bigsquidrc.com with a picture and description of what you got goin' on!
Keep it in the groove!