Laying Rubber – New No Prep Drag Racing Column
Hey guys, it's ya boy Doug. Regular BSRC readers will know me as "the monster truck guy" that writes the weekly Monster Truck Madness column. Don't worry, that isn't changing. What IS changing is that I am now going to be writing a semi-regular r/c drag racing column that chronicles my slow descent into THIS kind of madness as well!
I'm a total noob when it comes to the world of buggy/SCT conversions and no prep racing. Being a noobie isn't normally the best thing when it comes to writing an internet column, especially one where expertise is expected. However, in this case I think it will help.
The world of no prep r/c drag racing has REALLY started to hit the mainstream and I know there are many of you out there who are like me. You've probably been watching from the sidelines for awhile but stayed there as you didn't know where to start. Come along for the ride with me!
Now, while I'm a noob to the world of r/c no prep SCT racing, I am not a drag racing greenhorn. Outside of my beloved monster truck racing and truck/tractor pulling, drag racing completes my "big 3" of favorite motorsports. I grew up next to Mid America Raceways and am a devout fan of the full scale sport. I LOVE fast doorslammer racing and I'd say that Pro Mods are my favorite class to watch.
I also spent a good amount of time working for a fabrication shop that provided tools and rear ends to many of the top chassis builders out there – Jerry Bickel, DSR, John Force Racing…even full scale no prep/outlaw guys like Farm Truck and AZN. I wasn't actually doing the work at this shop, mind you, I was a marketing guy, but I bring it up so as to say I'm pretty well versed in the full side world.
As far as r/c goes, I've been scale drag racing solid axle monster trucks for many years. On the car front I'm more of a newbie, but I did partake in a Traxxas Funny Car league for a season (that was a blast) and I've also messed around with various pan car style diggers.
OK, so with that preamble out of the way, what finally got me to take the plunge here was some of my buddies decided to start building cars. Well that and seeing all the amazingly beautiful accessories that companies like Pro-Line and JConcepts are providing the drag world. I couldn't take it any longer, it was time to "get in".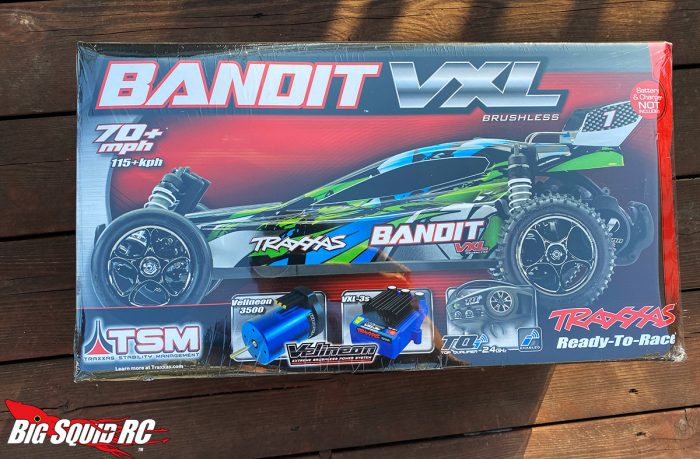 So here's where I'm starting, people. I have a brand new Traxxas Bandit VXL. My last experience with a Traxxas buggy? That would be when I was racing against a Traxxas Cat back in the early 90's. It's been awhile, haha.
I also have a whole slew of parts on the way for the Bandit. It's going to remain in stock form for, oh, I dunno, maybe an afternoon. I have new batteries, slicks, chassis, wheelie bar kit, bodies, but that can wait til next time.
I hope you all enjoy this ride with me! Next week, we make some initial test hits.
Oh, and that car at the top of the page? That belongs to reader Josh Wilson. He sent me a pic to show-off and included some specs. I hope to show off one of your cars every column, so to be featured send me a good shot to doug@bigsquidrc.com and give me a quick rundown on specs!
Josh Wilson's Nova Specs
Team Associated B4.2
JConcepts StarTec wheels
Proline Hoosier Tires
SkyRC TS160 ESC w/WiFi
Tekin Gen2 8.5T motor
Proline 1969 Nova body
Custom 3d printed body mounts