Laying Rubber – Picking Out a Body
Hey all, back again with another check-in on my Traxxas Bandit drag car conversion project. This fella has been progressing quite slowly, but I've actually enjoyed it that way, as I use it as a quick fill-in between working on my race monster trucks.
So today we are going to talk about the body I picked…or should I say bodies? Let me explain.
At the top of this article you can see a JConcepts '67 Camaro sitting atop the Bandit. The picture is actually from right before I lowered the ride height, which I detailed in my last article.
Before lowering the car or painting the body, I got a bit dumb and decided to make some test hits with the freshly cut out shell on top. This was a major mistake!
So with the ride height being too high, and subsequently the wheelie bar also being too far jacked up, the car lifted the front end on a 3S test launch at somewhere around 30 mph. What happened next was something I've personally never experienced in all of my years of r/c. The air that was rammed under the body when the front end got light turned the Camaro into a parasail.
With no exaggeration here, the car shot 10 feet into the air. It wasn't just straight up either, it worked itself into a crazy never ending back flip. Well, never ending until it hit the ground- THUD. It landed on top of the body and then skidded to a stop some 20 feet after touchdown.
Folks, that is NOT the kind of prep you want on a body before it's painted :). It scratched it to hell, ripping through the overspray film, and even cracked it in a couple spots. The real shame is I didn't get pictures or video of the accident. I literally meant to just make "one quick pass" before dinnertime.
So yeah, you definitely do want to lower that body. You'll also want to make sure your front end has a bit of weight (more on that soon) for good balance. Here's a pic of some of the aftermath.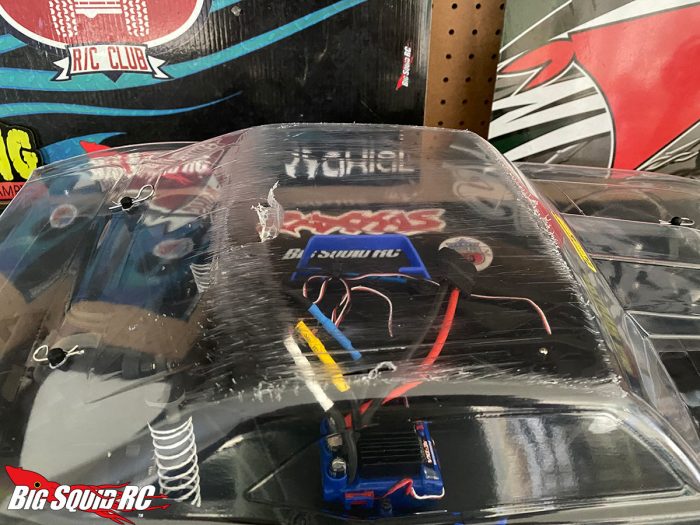 I am not sending a wrecked body to the painter, folks.
The silver lining here is that upon mounting the body I discovered that I really didn't care to use it for the permanent one. The reason is that the Camaro body is a bit wide for the narrower Bandit A-arms and therefore has a lot of overhang. Wrecking this body before paint lead me to go with choice 2A, something that I also had on hand-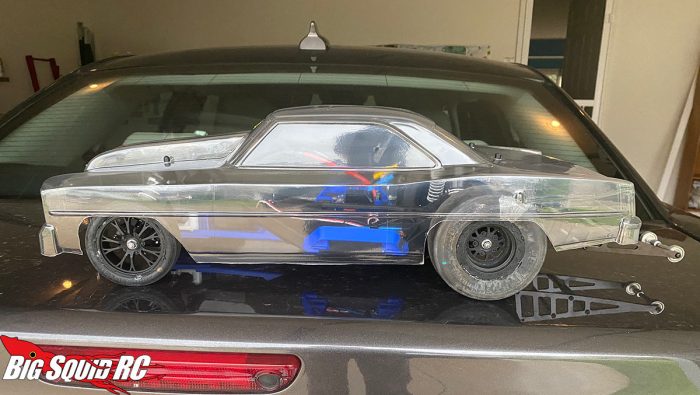 Here is my JConcepts 1966 Nova V2 all mounted up. The proportions are dead nuts! The body is of perfect length and width for the Bandit converted no prep car.
Now, I won't be making any test hits on this before it goes to paint. My good buddy Travis Sutton of Sutton Motorsports & Machine is going to be doing this body for me in a similar to theme to my Rotten Apple monster trucks.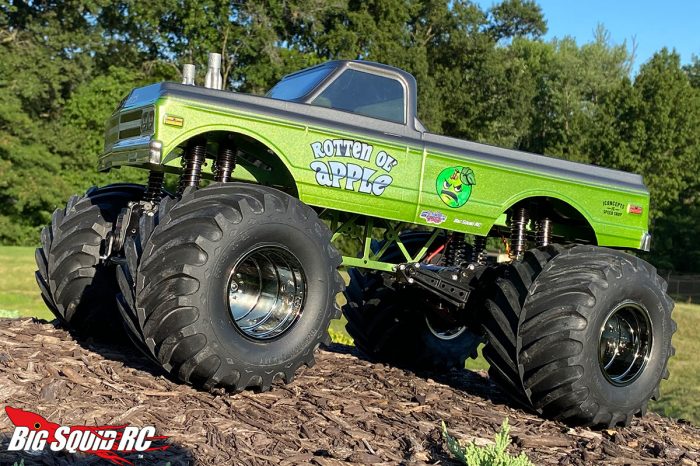 The next time I discuss this build it'll be with the freshly painted body mounted as well as plenty of action video to boot. I've got the perfect test strip near my house scouted out. Looking forward to finally letting this thing rip!