Leaked: Losi Mini Rock Crawler Pro Race Roller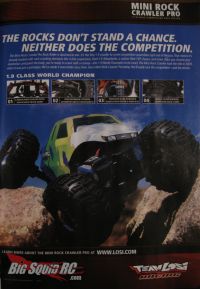 Another new product's existance has been leaked through an early advertisement.  This time it seems that the Losi Mini Rock Crawler is getting a professional make-over and being named the Mini Rock Crawler Pro.  There isn't much detail in the advertisement but a few of the new features include a carbon fiber TVP chassis set, a full complement of hard anodized, threaded shocks, and blue compound Rock Claws tires.  The wording of the ad also suggests that the Mini Rock Crawler Pro will be a race roller, not a full RTR, so you'll need to provide the necessary electronics to complete it and also sling some paint on the body.  I've uploaded a largish version of the ad, just click the image to the right to see it.
No other info seems to be available at this time, it's not on Losi's web site yet, but we'll keep an eye on it and when we see something official we'll pass it along.