Leighton Dillard Benefit Raffle – Win Drake's Truggy or Truhe's Buggy
Normally we write the news in our own voice here at BSRC, but this one is too important for us to jack up, so we're going to let the organizers speak for themselves.
---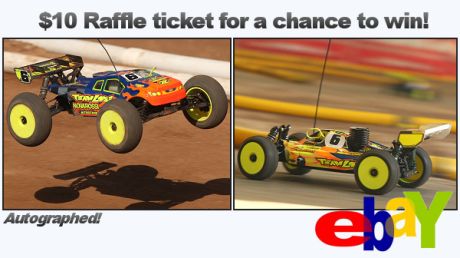 March 6th, 2010, RC Racing lost one of its family.  Leighton Dillard or as he was affectionately known Big L died on the drivers stand during the PyscoNitroBlast in Atlanta.  Leighton was well known all over the southeast in RC Racing. He had a passion for it like no other.  Five years ago, he helped open the "Leighton Dillard Memorial R/C Park" formerly known as "Trackseekers R/C Park" .  He had two dreams, one was to have a track that would host a professional race and the other was to "Run with the Big Boys".  Last year, HIS track hosted an R/C Pro Race.  He designed the track and was soooo proud.  (Dream number one came true).  When Leighton died, Adam Drake and Mike Truhe were on the drivers stand next to him.  He was running with the Big Boys when his heart failed him and he died on the drivers stand with them.  Leighton Dillard was 41 years old when he died.  He loved his family and provided for them when he was alive.  However, like a lot of us, he did not have provisions for them in the event of his untimely death.  Shellie, Chris and Jessica need our help.  Adam and Mike are doing their part to help, won't you?
All you have to do is purchase a raffle ticket for Adam or Mike race vehicle for $10.00 and have a chance to win.
ADAM DRAKE AUTOGRAPHED LOSI TRUGGY & MIKE TRUHE AUTOGRAPHED LOSI BUGGY.
For $10.00 you can have a chance to win Adam Drake's Losi Truggy or Mike Truhe's Losi Buggy.  They come complete electronics, engine, and all the hop-ups Adam and Mike use.  The radio and transponder are not included, but it is complete straight from the race track to the winner of the raffle.  The drawing will be held Friday night June 18 at the Leighton Dillard Memorial Race.  Trackseekers R/C Club is feeding the drivers that night and hosting a live and silent auction to raise money for the family.  You DO NOT have to be present to win, but you might want to come race on Leighton's Pro Track.  This is the last lay out Leighton did before he died.  Come race with us for a really good cause and help us raise money for Leighton's family.
Check out Trackseekers for more info. www.trackseekers.com
I will personally place your contact info onto the raffle ticket and enter it into the drawing.  If you have any additional question feel free to contact Bubba Barham at bubba@overdoseracing.com or 601-946-2337.  All proceeds will go directly to the Dillard family.
---
Follow this link to buy a raffle ticket for Mike Truhe's buggy.
Follow this link to buy a raffle ticket for Adam Drake's truggy.
So what do you say Big Squidateers?  I got my raffle tickets, how about you?  If you're in the Flowood, MS area and you attend the event in person send us some pictures and tell us all about it.  You can email all that stuff to Brian (at) bigsquidrc.com.