Charger Shootout – Results and Final Thoughts
The Results and Final Thoughts
While we don't want to really say these are full reviews of each individual charger, these results are in a nutshell, based on features we thought were important. Your millage may vary! For some people it's all about price, for others it's about amps. Please make sure you read the final thoughts on the chargers, because we feel they are just as important as the actual results.
Thanks again to all the companies that supported our first Charger Shootout! The fact that you even participated shows that you stand behind your products 100%, and we truly appreciate companies that are willing to do so.
| Rank | Manufacturer/Charger | Points |
| --- | --- | --- |
| 1 | Hyperion 720i | 19 |
| 2 | Hyperion 615i Duo | 23 |
| 3 | Team Checkpoint TC1030 | 31 |
| 4 | Venom Pro Plus | 32 |
| 5 | Duratrax Onyx 220 | 37 |
| 6 | FMA CellPro 10S | 39 |
Final Thoughts:
Team Checkpoint TC1030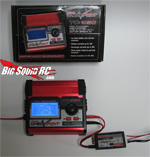 While on paper, the Team Checkpoint is not the best, in the real world, it is one of the best chargers we have ever used. It has a ton of features that none of the other chargers have such as motor break in, and graphing. If we had categories for those, the Checkpoint would be sitting pretty because nobody could touch those. The Checkpoint charger is about 4 years old now, and is still our go-to charger. Every person on the Big Squid RC team owns at least 1, and most of us 2 or 3. (Have you seen the LiPo shootout pics?) Maybe it's time for Team Checkpoint to revisit their amazing little charger, add some modern features like PC linking and higher amp charger, and they could easily be on top again.
Hyperion 720i and Hyperion 615i Duo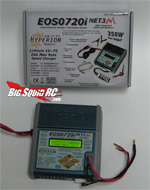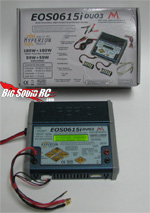 The Hyperion's are great chargers. The 20 memory slots are becoming more useful. As batteries get larger and large, we find the need to go to the Hyperion more for the amp rates. It can take a long time to charge those 4S packs, or two 2S packs for a buggy, and these chargers put out the power needed. They can store data and allow you to monitor a packs life over time. They are well worth the money.
Venom Pro Plus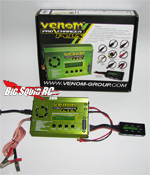 The Venom comes with every imaginable plug under the sun making it a pretty popular charger. It does what it needs to do, but the interface could use a little help. The issue we found with the capacity cutoff was a bit of a stickler. Maybe this is something they can address as a software update if they find out it is a issue. The AC/DC is useful.
Duratrax Onyx 220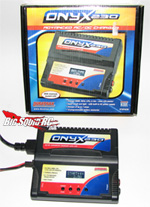 The Onyx is a great charger for the price. When you think about the fact that you don't need a power supply, that puts it at 1/5 of the price of many of the other chargers. The interface is easy to use, but as batteries get bigger, this little guy will be behind with only 5 amp charge.
It does not have the most features, but it works well and it's cheap.
If you are a basher on a budget, this may be for you.
FMA CellPro 10S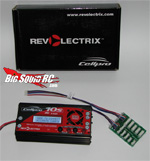 The CellPro claims to be the smartest charger around, and it just might be. It has some really cool features like the fuel gauge that shows how full the battery is. It is one of the only chargers that has a battery recover mode, if you discharged your LiPo too far, it will try to safely bring it back to life! It also has the ability to store data about packs, and the dual pack charging is great for the price. The interface needs to be overhauled. Buttons don't cost much, they could of used a few more, and just make the system a lot easier to use.
Watch for upcoming full reviews of these chargers! You can check out the full Checkpoint Charger Review we did years ago. Wow that page is from the archives! LOL.
Back to the beginning:Click HERE.
Want to check out our other shootouts?
Check out the First Lipo Battery Shootout
Check out the Second Lipo Battery Shootout