LiPo Battery Shootout!
Welcome all to Big Squid RC's highly anticipated Li-po Battery Shootout!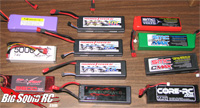 Ever notice how every message board has at least one thread asking "What Li-po should I buy?", well so have we. It's been the biggest question of the last 5 years, and BigSquidRC is ready to finally answer it!
We sent out emails to over 25 different Li-po battery manufactures/resellers asking for their best Li-po for use specifically in a Traxxas Slash. In that email, we specifically pre-announced our exact testing criteria. Some companies shot us packs to test, others simply ignored us.
Those that ignored us may have done so for several reasons:
1. They didn't know who BigSquidRC was,
2. They weren't in the financial position to send out a free pack to test,
3. They didn't have the balls to see how their product stacked up to the competition, or
4. they just didn't care.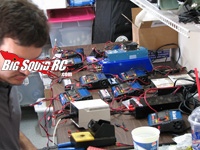 So you as a reader and a consumer, please keep in mind that those companies that did send us packs care about their product and potential consumers- THEY want your business. Those didn't respond, perhaps not so much. One note here, we also invited MaxAmps to submit a Li-po for the shootout, but we later pulled our offer due to them being the only paying battery advertiser on BigSquidRC. We did so because we didn't want any readers thinking we were pulling any favoritism in our test results had MaxAmps won or placed well. We wanted to present the most honest, fair, and legit shootout possible, even if it meant excluding one of our site sponsors.
The companies that participated are:
Team Checkpoint
Thunder Power RC
True RC
SMC
CORE RC
Speed Power
Thank you all very much for supporting our tests! You guys rock!
Here are the 8 different criteria we used to rate each battery pack.
1. Capacity
2. Top Speed
3. Voltage Under Load
4. Weight
5. Price
6. In Truck Performance- Stock Motor
7. In Truck Performance- Mod Motor
8. Fit in Stock Traxxas Slash