LiPo Battery Shootout 2 is HERE!!!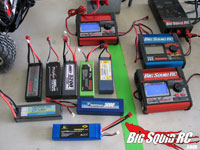 That's right folks! It's finally here! The post you have all been waiting and asking for! The Second Lipo Battery Shootout!
This time around we had a whole new set of competitors. We would like to thank all the companies for their participation in the shootout.
Here they are, and the packs we used:
Team Checkpoint 5000mah 40c
ACE Acepow Electronics 5000mah 40c
Common Sense RC 5000mah 40c
JGB RC 5200mah 35c
Venom Group RC 5000mah 20c
Empire RC – Hyperion 5000mah 30c
Hobbyking – Zippy Pack 5000mah 30c
Winforce RC (Off Ebay) 5000mah 30c
Now head over to the first page of the shootout, since we know you are dying to find out who won!
For those that missed the first one a while back you can read it RIGHT HERE!.