Lipo Shootout 3 – Voltage Under Load Test
BigSquidRC 4S Lipo Battery Shootout- Voltage Under Load
Now here's a test that many readers have long been waiting for. In the world of discharging batteries, especially high voltage batteries, there is no equal to the West Mountain CBA discharger. We have upped our game here at BigSquidRC, and now using our CBA we can test high voltage batteries at high amp rates.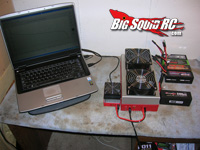 So what does this test show? In short, better batteries will give you higher voltage (thus making your car faster) under load. Each of the batteries was charged using a Hyperion 720iNet3 charger at 1C, then were immediately discharged at a 30 amp rate using a West Mountain CBA with 10X amplifier. The higher the voltage a pack could maintain under this load, the better they finished.
So why did we chose a 30 amp load? The limit of our CBA (with 10x amp) while testing 4S packs was 32 amps, so we rounded it down to an even 30.
Of note, ambient temperature was 63 degrees Fahrenheit. Voltage cut-off was 3.0 volts per cell.
1. Thunder Power 4S 5300– As shown in the graphs, the Thunder Power owned this category putting out higher voltage than any other pack across the board. Battery temp at conclusion of the test was 85F, putting out 5187 mah, in 624 seconds (nearly ten and a half minutes).
2. CheckPoint 4S 5400– The Team CheckPoint pack showed it was no joke, putting on a great performance for second place. Final battery temp was 90F, putting out 5227 mah, in 629 seconds.
3. Ace 4S 5000– The Ace pack nearly finished second. The Checkpoint had higher voltage up till the 6 minute mark, then the Ace was higher till just past 8 minutes. Final battery temp was the lowest of those tested, at 82F, it put out 4929 mah, in 593 seconds.
4. Venom 4S 5000– The Venom pack put out solid numbers, but they were only good enough for 4th place in this group. The Venom showed it's got the voltage on tap to get you quickly around the track. Final temp was 95F, putting out 4904 mah, in 590 seconds.
5. Turnigy 4S 4500– Anyone that says "Turnigy packs are every bit as good, and cost 1/3 the price!" hasn't looked at the numbers. The Turnigy did not put out the voltage of the other batteries in this test. The lack of voltage will show itself as less speed when drag racing your neighbor and while trying to clear the big triple at your local track. Temp at the end of test was 89F, it put out 4495 mah, in 541 seconds (barely over 9 minutes).
Here are some of the charts for your viewing pleasure. We just randomly compared some of the batteries for a few shots so you can see some of the differences, because all 5 on there is a little crowded.