Lipo Battery Shootout 4- 2S 5800 mah Edition
BigSquidRC's Lipo Battery Shootout #4– 2S 5800 mah Edition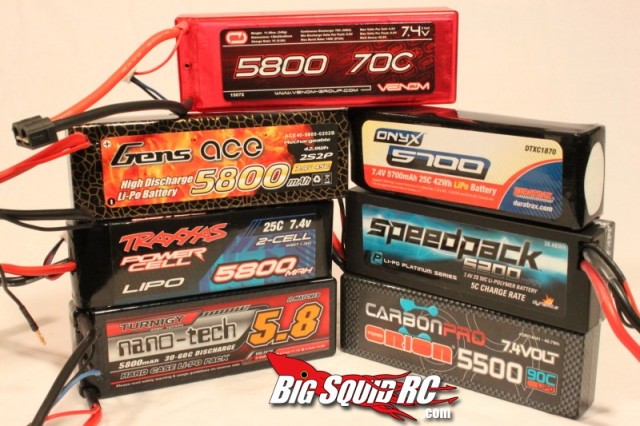 Oh my how time flies, it seems like only yesterday we were working on Shootout #3 but it has been over a year! Yes, things have been a bit busy around the overly luxurious BigSquid offices, but we've finally knocked out yet another uber shootout, and about time because Lipos just keep getting better and better. If you are shopping for some new batteries for your uber ride, welcome to our long awaited 4th Shootout, we hope it helps you make your buying decision a little easier.
Also, remember to check out our FIRST Li-Po Battery shootout RIGHT HERE, the second one HERE, and our 3rd (4S) shootout HERE.
Lipo Shootout #4 came to being after noticing there are a lot of 5800 mah packs out on the market (and inside trucks at bash spots). Why not make a few phone calls and round up a full compliment of 5800's then shoot them out? Venom, Duratrax/Onyx, Dynamite/Speedpack, Orion, HobbyKing/Turnigy, and Gens Ace were gung ho for the shootout, and we went out and bought a Traxxas pack just to throw into the mix.
Let's take a quick look at the field of combatants-
Venom 2S 70C 5800 – The last few generations of Venom Lipo's have been solid packs. The 70C Venom supplied us for this shootout is one of their most expensive yet, is it worth the extra cash? Venom Group RC Lipo Link
Onyx 2S 25C 5700 – The Duratrax Onyx line of batteries is budget minded, are they a great bang for the buck? Onyx Batteries Link
Speedpack 2S 50C 5200 – We reviewed a Speedpack a few months ago and it was a good pack (we received a new sample for the shootout), how would it fair against a full field of of higher capacity packs? Dynamite Speedpack Link
Orion 2S 90C 5500 – Orion Lipo's have a rep for winning national titles but can they win a BigSquid Shootout? Team Orion Batteries Link
Turnigy 2S 30C 5800 – It's not a real Lipo shootout without having one of the HobbyKing packs in the mix. This time they sent us one of their best "nano" packs to test, was it able to pwn the field? Turnigy / Hobby King Lipo Link
Gens Ace 2S 45C 5800 – Gens Ace packs have proven they can run with the best and have won a BigSquid shootout before, how does their latest tech stack up? ACE Acepow Electronics – Gens Ace Lipo Link
Traxxas 2S 25C 5800 – Traxxas is the new kid on the Lipo block, are their Lipo's up to snuff or full of fluff? Traxxas Lipo Link
So there we have our 7 combatants!
As always, thanks to all the companies for supporting our tests! When you go out to buy/order these packs, make sure to tell them you saw it in the Lipo shoot out on Big Squid RC. This way you can make sure you are getting the same pack we tested with.
Here are the categories we judged the packs on this time around.
1. Weight
2. Capacity
3. Top Speed
4. In Vehicle Performance
5. Voltage Under Load
6. Price
Final Results! We know everyone just likes to ruin the book and skip to the end, but seriously, this link is for reference later. Don't go jumping to the end and mess up the suspense! Start at the beginning below.
Lets start off this year with the Weight Test! Click HERE.