Lipo Battery Shootout 4 – Voltage Under Load
BigSquidRC Lipo Battery Shootout 4 – Voltage Under Load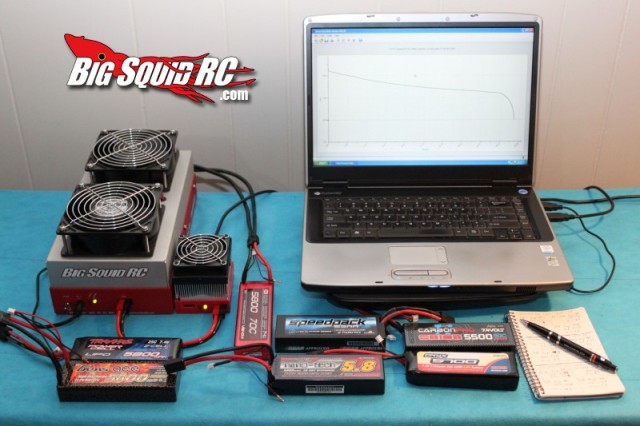 Some consumers buy their batteries based on one thing- Performance. The best way to measure battery performance is to put them under a load and measure their voltage output, the higher the voltage they can maintain, the faster your car will be. If your power system drains your battery in roughly 10 minutes the results of the 30 amp discharge will be more important to you, if your power system drains your battery in roughly 5 minutes the 60 amp test equates more to your power draw.
We determined the winner of this category by testing all the packs under 30 amp and 60 amp loads. The higher the voltage a pack could maintain, the better they finished.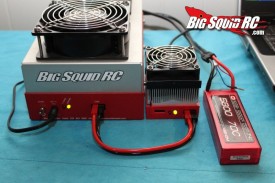 To handle the discharging duties we enlisted our trusty West Mountain CBA with 10X amplifier. All packs were charged at 1C on Hyperion 720iNet3 chargers. All connectors were Traxxas, and all connectors were new at the beginning of testing. Dr Marty's conductive grease was used on all contacts. Ambient temp for all bench tests was 68 F. All packs were discharged within 10 minutes of being fully charged. No air flow was allowed to packs during discharging.
Voltage Under Load Overall Results- Combing the results from both 30 and 60 amp discharges. While one pack had to win and one had to finish last, all the packs showed good power on the discharger, meaning none should disappoint when driven in a car. This shootout also showed us just how tight the battery competition has gotten lately, many of the pack were within a few thousandths of a volt from one another.
1. (Tie) Gens Ace/Orion – The Gens Ace was head and shoulders above the field at 30 amps, while the Orion won the 60 amp test.
3. Speedpack– The Dynamite Speedpack finished 4th at 30 amps and 3rd at 60 amps, good enough to secure third overall.
4. (Tie) Venom/Turnigy– The Venom finished 6th at 30A and 4th at 60A, while the Turnigy finished 3rd at 30A and 7th at 60A.
6. Traxxas– The Traxxas finished 5th at 30A and 6th at 60A landing it 6th overall.
7. Onyx– Coming in 7th at 30A and 5th at 60A landed the Onyx last overall in this category.
Some details for those that like to crunch the numbers. We also have minute by minute data that was used to determine the winners/results, but there should be enough data here to make your head spin already.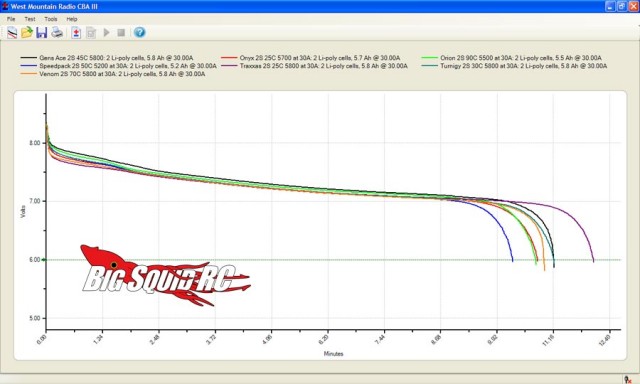 30 Amp Testing
1. Gens Ace 2S 45C 5800
Final Pack Temp- 91 F
Capacity- 5578
Minutes- 11.2
2. Orion 2S 90C 5500
Final Pack Temp- 90 F
Capacity- 5378
Minutes- 10.8
3. Turnigy 2S 30C 5800
Final Pack Temp- 91 F
Capacity- 5578
Minutes- 11.2
4. Speedpack 2S 50C 5200
Final Pack Temp- 94 F
Capacity- 5120
Minutes- 10.3
5. Traxxas 2S 25C 5800
Final Pack Temp- 98 F
Capacity- 6012
Minutes- 12.0
6. Venom 2S 70C 5800
Final Pack Temp- 93 F
Capacity- 5470
Minutes- 11.0
7. Onyx 2S 25C 5700
Final Pack Temp- 97 F
Capacity- 5395
Minutes- 10.8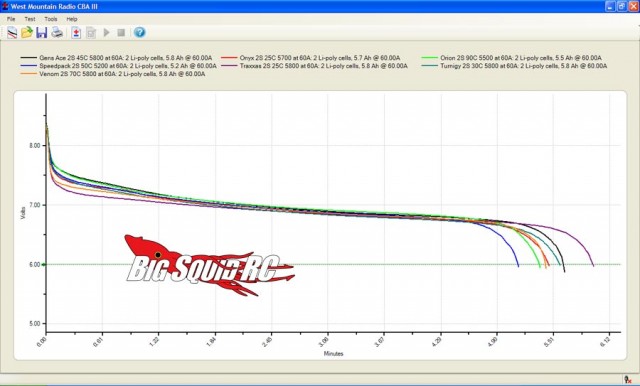 60 Amp Testing
1. Orion 2S 90C 5500
Final Pack Temp- 104 F
Capacity- 5354
Minutes- 5.4
2. Gens Ace 2S 45C 5800
Final Pack Temp- 98 F
Capacity- 5604
Minutes- 5.6
3. Speedpack 2S 50C 5200
Final Pack Temp- 107 F
Capacity- 5120
Minutes- 5.1
4. Venom 2S 70C 5800
Final Pack Temp- 106 F
Capacity- 5422
Minutes- 5.4
5. Onyx 2S 25C 5700
Final Pack Temp- 110 F
Capacity- 5454
Minutes- 5.5
6. Traxxas 2S 25C 5800
Final Pack Temp- 114 F
Capacity- 5940
Minutes- 5.9
7. Turnigy 2S 30C 5800
Final Pack Temp- 99 F
Capacity- 5573
Minutes- 5.6