THE Losi 1/10 XXX-SCB (Short Course Buggy) RTR Review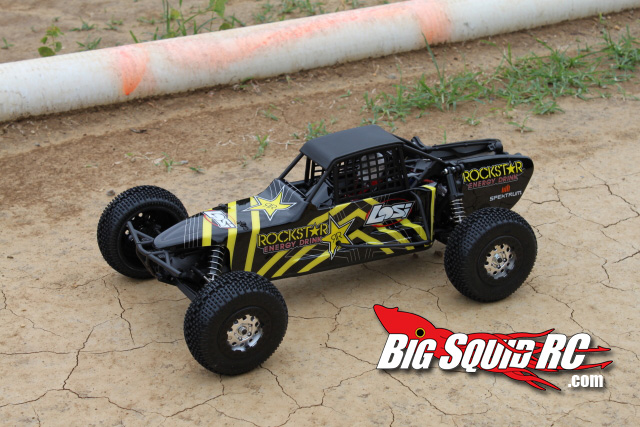 Intro- Yes, I have to admit I'm a biased reviewer on this one folks. When the original gold tubbed RC10 was released I always envisioned the buggy class morphing into something like the Losi XXX-SCB, but for 2 decades it went the way of the Associated B4 and Losi 22. So when news leaked about the Losi SCB I personally saw my "dream" car come true, hence the reason I'm very biased towards it. Of course normally I'm all about objectivity, so I tried my best to review it without bias, but… even I'm not dumb enough to think that was even remotely possible.
Some have regarded the Losi SCB as the most highly anticipated release since the T-Maxx. Others have already deemed it the future of rc. Yet others have said the SCB IS the platform that puts Losi back on top. That is a lot of hype to live up to, does it deliver? With all that said, lets dive in shall we?
From: Losi
Product Page: Losi SCB
Review by Cubby
Photos by Cubby and Sam "The Photog"
Specs –
Age Rating- 14 yrs+
Scale- 1/10th
Kit or RTR- Pre-built RTR
Length- 20.078 inches
Width- 11.42 inches
Height- 7.42 inches
Wheelbase- 12.95 inches
Weight- 4.25 lbs
Weight Ready To Drive- 4 lbs 8.1 oz (measured by BSRC with 2S 6500 mah Lipo installed)
Motor- Brushed Losi LM-32K 14 turn w/ fan
Speed Control- Losi (Lipo compatible)
Servo- Digital, Hi-torque, 70 oz/inch, .16 speed
Radio- Losi Branded Spektrum 2.4 Ghz DSM
Shocks- Oil Filled, Aluminum Bodies
Bearings- Complete Set
Slipper Clutch- Included
Rims- Vented Faux Beadlocks
Tires- Losi Eclipse SCT
Warranty- (Quoting from the manual) "Warranty Period: Exclusive Warranty- Horizon Hobby Inc., (Horizon) warranties that the Products purchased (the "Product") will be free from defects in materials and workmanship at the date of purchase by the Purchaser.
Street Price- $249
Primary Competition– Kyosho Ultima DB
What's In The Box– Everything except a Lipo or Ni-mh battery pack, and battery charger.
Build Quality– Horizon seems to be keeping a close watch over the people building their buggies as my unit was built extremely well. I didn't find any loose or stripped screws. Slipper clutch seemed to be adjusted very well. Servo saver adjustment was also good. Camber and toe settings looked to be equal and as intended. Tires were well glued. Shocks were full of oil and not leaking. Kudos on the assembly to the Losi crew, made me wonder if Todd Hodge built ours himself.
Driving Impressions –
Test Drivers- Cubby, Brian, Tim, Sam
Test Venues– RC Outlaws- Collinsville Illinois, Costco parking lot, asphalt and cement driveway, grassy backyard
Set-up Notes– Spektrum radio was already bound to the receiver out of the box saving time. I installed a Traxxas connector on the speedo and all testing was done with 2S 6500 mah MaxAmps Lipos.
Turning– Out of the box, bone stock settings it turns well. It doesn't over-steer, yet it doesn't push too much, it's a fairly neutral turner. The SCB doesn't exhibit a ton of mechanical grip (due to stock settings and tires), but it's no slouch either. The SCB doesn't own the inside line, nor does it rail the outside with the best, what it does do is carve consistently smooth lines at a good pace. To boil it down, it's set up easy to drive around the corners, a good thing for everyone from pro to noob.
Jumping– The SCB is a great jumper, but… the stock motor/speedo combo holds it back from being precisely controlled in the air. Out of the box if you hit a jump square at the proper speed it flies very neutrally. However, if you hit the face in such a way that you endo the stock power system does not have enough yank to bring the nose back up. And worse still, if the nose should rise too high tapping the brakes is a bad thing on the SCB. Why? Because the stock motor/speedo combo has weak brakes, and the stock speedo has a tendency to "brain fart", meaning that if you tap the brakes it can take a couple seconds for the speedo to allow you to give it gas or brake again. This can turn quite ugly in the air and after landing. But like I mentioned earlier, the inherent jumping characteristics of the chassis are very good, it's unfortunate the power system causes issues. Lastly, I noticed absolutely zero parachute effect on the SCB, a welcome change to those of us accustomed to our 2wd short course trucks being blown over backwards on windy days.
Bumps/Whoops– Outstanding performer here. The long chassis, big tires, good shocks, and chassis geometry yield a very stable buggy blasting through the chop. Very impressive how fast you can pound through a blown out section with the SCB. You enter a rough section behind any 2wd short course truck and you are going to exit ahead of it, the SCB is that good in the rough.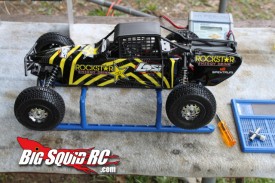 Broken Parts– Absolutely zero at this point, but we haven't driven it like we stole it either. It has however been subjected to a more "normal" type of abuse schedule- the normal crashes everyone does, slamming into pipes at the track, casing some big jumps, and high speed roll overs on pavement. I did have a few screws come loose, the ones that go up through the bottom of the chassis up into the tranny, so keep on eye on those.
Best Mod You Can Do Under $5– This is an easy one, to water dip the stock motor. A proper water dipping will yield lower motor temps, more power and longer run times. Oh and, most likely it won't cost you a penny to do.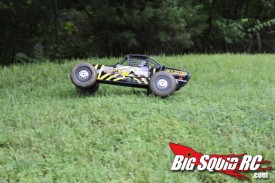 Best Mod Over $5– The stock speedo has issues, replacing it will make your Short Course Buggy much more drivable. As mentioned earlier in the review, the stock speedo can sometimes take a while to "think", pausing between brake, throttle and reverse. In light driving this is no big deal, but when it decides to think after you tap the brake to bring the nose down over a jump, or tap the brake to get the rear of the buggy to rotate going into a corner this can become quite frustrating. IMO, even if you elect to keep the stock motor, the speedo has got to go.
Stock Transmitter– I didn't like the transmitter, it has a strange grip, the wheel foam is slick and the trigger isn't tight enough for most fingers. The RTR transmitter from the Venom Gambler I tested a few months ago feels worlds better. Also, our stock radio exhibited poor range, I'm talking sub 300 feet here. So… while the stock SCB transmitter is certainly usable, it's not a unit to be treasured.
Misc Notes–
The Losi SCB runs very quietly out of the box, which is nice. What little you can hear coming from the SCB sounds like a viscous whistle from a hand wound 6T mod motor, this must be the way the fan in the endbell of the stock motor resonates in the rear pod.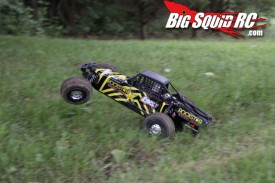 Horizon/Losi has attached one of their weird connectors to the speedo. If you run Losi brand batteries you are dialed, if you run Tamiya, Deans or Traxxas connectors you'll be cutting it off ASAP and doing some soldering.
I like the included servo, it's a bit noisy and not the smoothest I've ever felt, and no it doesn't have holy cow specs, but for a cheap RTR unit it works fine. It's fast enough to get the job done, and has enough power to keep the wheels turned in the right direction, even at higher speeds.
The SCB comes with a lot of E-clips. E-clips are the devil and should be banned worldwide.
There is a lot of rear overhang on the SCB which I thought would be a problem while driving. Reality is- I never even noticed it, it's a total non-issue.
The roll cage/body is actually a stress member of the chassis. The roll cage actually slips down into slots in the chassis. It's good that the roll cage is a stress member, but at times it can be hard to line up properly when mounting up the body.
At first glance you might think installing a battery in the SCB would be a PITA. There have been several models released lately that are quite difficult to install the battery, thankfully the SCB is not one of them. You simply remove 4 body pins (like you would on any normal rc car) to get the body off, then remove one more body pin to take the battery strap off and you are dialed. Couldn't be easier.
About the included motor… it puts out good, tractable power. I was able to make nearly every jump on a local 8th scale track with the stock motor and gearing. It doesn't have nearly the torque of a brushless set-up, but it puts out a decent amount of manageable power. But… the stock motor runs hot. On a 75 degree ambient day we were seeing motor temps well over 160 degrees, that is too hot. I didn't really investigate why it was running so hot, but I'd put my money on the fact that there is next to no airflow making it to the motor.
I've already talked about the stock speedo, but I forgot to mention that it likes to run hot as well. We measured temps well over 150 degrees on an 75 degree ambient day. The speedo never thermal'd out on us, but you didn't want to touch it either, and a hot running speedo is one that is short for this world.
The larger SCT tires and ground clearance of the SCB allow it to go places and do things a XXX or B4 never could. The SCB drives through grass reasonably well, certainly a million times better than a XXX or B4. And where blown out 8th scale tracks are undriveable to a XXX, the SCB gets around them very well.
While initially driving the SCB I felt as if it had more of a tendency to want to roll over on its side than a 2wd short course truck, a 10th scale 2wd stadium truck or 10th scale 2wd buggy. I didn't know if I falsely felt that way because the SCB looks so skinny, or if it actually did want to roll over more than I am accustomed to. The SCB has roughly the same wheelbase and width of an 8th scale buggy, so while it might look narrow, it's not. With more driving time I'd have to say that indeed it does have a slight tendency to roll. I'll put that blame on its higher center of gravity due to it's heavy roll cage. This certainly does not make it drive "bad", but you do want to make sure you are nice and square when you hit bumps/ruts and are landing from jumps.
If you are into driving on the street you'll dig the SCB. It drives well on pavement, but can traction roll when turned at high speed.
The SCB turned heads in a major way everywhere we went with it. People, both hobbyists and muggles couldn't resist asking questions and giving it the once over.
The SCB comes with the same tires (and same looking rims) as the XXX-SCT and the Ten SCTE. The faux beadlocks are just bogus, but the Eclipse tires are decent, offering good traction on dirt. The SCB uses the exact same rims front and rear as the XXX-SCT, but not the Losi Ten SCTE. Come'on Losi, all the rims should have been the same.
Yes, I hate E-clips a LOT, and the SCB has a LOT of them on it. And yes I know I have mentioned this twice now, but I can't help myself, I hate them that much.
A had a lot of fun driving the SCB, it just loves the rough stuff. I also found it quite enjoyable just watching it drive around the track, it looks scale the way it floats through bumps and over jumps.
Attention to detail? The included rubber netting on the body is seriously trick. Losi also used two small black body clips on the front to provide a more realistic look. The driver figure is trick too. Overall, Losi paid a lot of attention to the little stuff.
There are light buckets front and rear on the SCB, but no lights are included. That makes me assume (and yes, my football coach taught me what "assume" really means.. LOL) there is a lit version coming down the pike, or Losi just made it very easy for us to add lights.
Captured rod ends are utilized on the SCB. Awesome, as I've broken hundreds of ballstuds on the original XXX series buggies/trucks.
I still think Losi puts out the best performing, lowest stiction shocks on the market. The shocks on the SCB felt wonderful, both on track and in hand. I will say that while I thought I wouldn't mind the old' school springs collars, after adjusting them just once I no longer felt the retro love.
I wish the SCB would have come with metric hardware. Maybe next time when the 22nd version of the SCB comes out?
The battery tray in the SCB is extremely long. Losi includes 5 battery spacers, we ran 3 in the front and 2 in the rear for neutral handling. If you own a bunch of long Lipo's that won't fit in anything else, you are totally dialed with the SCB.
Because of the poor airflow to the motor, I can see some entrepreneurial company making an uber fan kit to mount above the motor. Heck if they do it right it will even look scale.
Our SCB came with neg 2 degrees of camber rear, 1 degree of toe-out on the front, and positive 2 degrees of camber on the front. At first I thought the assembly workers messed up the front camber, but after looking at two other units they all came set-up that way, and now I know why. I changed the front camber to negative 2 and the initial steering became very twitchy. Because of its steering geometry the SCB turns in more naturally with some positive camber. If I had a wish list, I'd wish for revised steering geometry when they do an update to fix this, as running positive camber on the front limits the amount of tire-patch (and hence mechanical grip) you'll ever be able to get out of the buggy.
Like with all of our stuff, if you see us at a bash, or out at the track, stop by and check out what we brought with! Don't forget to get some stickers from us!
Summary

| | |
| --- | --- |
| Time to Bash | 10/10Charge up a battery and you are ready to roll. It doesn't get any faster than this. |
| Workability | 7/10 The SCB gets tought to work on in the motor area, not insanely so, but not easy either. The extra roll-cage and body take more time to work on the motor/tranny. |
| Car Show Rating | 8/10I loved the looks of the SCB, but others around the office not so much. Had it come with scale looking tires, not SCT rc units, it would have scored better. |
| Bash-A-Bility | 9/10 So far, so good, nothing has broke yet. The SCB drives well on pavement and excellent on the track, but lacks 4wd and the ground clearance required to be the King of Bashing machines. |
| Big Squid Rating | 8.5/10 The SCB isn't intended to run with Revo's or Savages, the core vehicles of a basher, but it is an affordable, great driving machine who's scale appearance is long overdue. Can the SCB be the next Slash? Yes it certainly can. Can it be the last nail in the coffin of non-scale looking rc's? Yes, it can. Will it accomplish all those things? Only time will tell. Till then I'll be out enjoying mine. |
Don't forget to check out the SCB Unboxing Photos!