Losi 1/16 scale Mini SCT RTR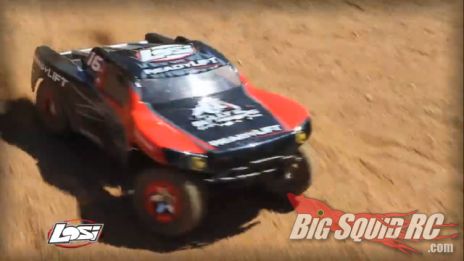 The Losi YouTube channel is playing host to a video of a new 1/16 scale short course truck, dubbed the Mini SCT.  There isn't much info provided but from what can be gathered from the video it's going to be a ready-to-run package with a 4600kv brushless system, 2.4GHz Spektrum radio system, and it will sport a body dolled up like the Sean Geiser driven Pro Lite Unlimited class ReadyLift/Bully Dog Toyota from the Lucal Oil Off Road Racing Series.  What info isn't provided is the platform this new truck is based on.  By the looks of some of the components it may be based on Losi's Mini Highroller chassis with some changes, but that's just speculation on my part.  So will it be competitive with the 1/16 Slash?  Or will it be priced cheap enough that people won't care?
The Mini SCT isn't listed on the Losi or Horizon web sites yet, but we'll keep an eye on them and bring you the official info as soon as we have it.  In the mean time the video has been embedded after the break.