Losi 22T 2WD Race Truck Kit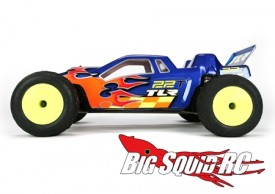 Here's an interesting new development… Losi has apparently announced a new Losi 22T 2WD Race Truck Kit! It is being marketed under the Team Losi Racing brand and looks pretty cool! It appears to have lots of the same features the 22 Buggy has. Mid and rear motor completion options, 2.5mm hard-anodized aluminum chassis, 12mm Big Bore shocks, and a dual disk slipper are just the tip of the iceberg on this feature list. You'll need to add electronics to this beast but if you're a stadium truck racer, this is definetly something you'll want to check out.
Head over to Team Losi Racing for all the info and some more pics!