Losi Boss Claws 2.2 crawler tires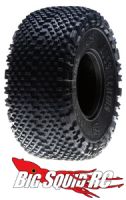 Losi's got a new set of fat meats for 2.2 class rock crawlers. The new Boss Claws are actually patterned after the popular 1/8 scale Eclipse treads, with a ton of smaller, pin type lugs. The sidewalls feature large, multi-edged lugs on the outside and have webbing on the inside for better support during side hilling. It's said that the smaller lugs provide better traction and more precise driving by reducing wheel hop.
The Boss Claws are molded in Losi's red compound for long life. MSRP is going to be $29.99 and they should be hitting the market in late June.
For more info check out Losi's site.