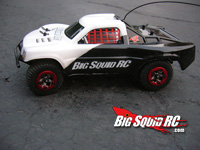 When Brian walked into my office 3 weeks ago with a TINY little box and a smirk on his face, I just knew the convo was about to get interesting.
Brian– "Cubby, would you P L E A S E review this for BigSquid?"
Cubby– "What in the hell is it?"
Brian– "Oh, it's neat, it's the new 24th scale 4wd Losi short course truck. You are gonna love it!"
Cubby– "I hate Losi, well since Horizon bought'em out anyways."
Brian– "Remember our meeting about having a more positive attitude?"
After that, I do remember Brian's lips moving for like a half hour, but as they say I was letting it all go in one ear and right out the other.
Anyways… Here is the review!