Losi Micro SCT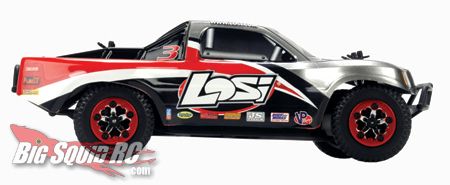 So the Losi Strike is considered the Dodo bird of the short course class. We all know that they need to release a new chassis to be competitive in the class. A cottage industry has popped up around converting the XXX-T to short course trucks and we all thought that Losi would follow that lead and release a purpose built racer. So after all the waiting what do we get? The Micro SCT.
The Micro SCT is a 1/24 scale, 4WD truck based on an all new chassis. The drive-train is shaft driven with gear differentials front and rear, plus an adjustable slipper clutch. The suspension is fully independent and features oil filled shocks with threaded shock bodies. The electronics package consists of a ESC/Receiver combo unit, a 4-wire (ugh…) micro servo, and powerful micro motor. The Micro SCT comes fully RTR with a 27MHz radio, a 4.8V 220mAh battery, a wall charger, and it will be available with four different paint jobs
Don't get me wrong, this thing looks pretty cool and definitely has a place in the hobby, in fact I think it's going to be on my must buy list, but hopefully the Micro SCT is a small preview of larger things to come.
MSRP is going to be $139.99 and it should start shipping in mid to late August. Check out the Losi web site for more info.
Losi Micro SCT gallery