From: Losi
Direct Link: Micro Trail Trekker
Review by: Evan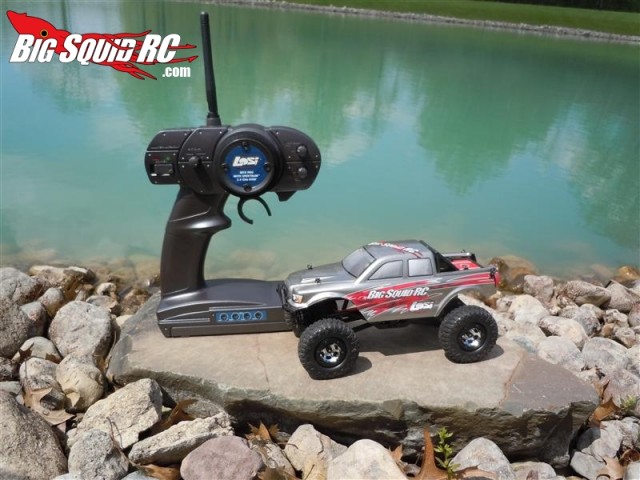 Losi isn't exactly new to the micro game. From their Micro-T, Micro SCT, Rally, and Micro Rock Crawler, Losi is at the forefront of the mainstream micro market (say that 5 times fast). Earlier this year, Losi released the Micro Trail Trekker, a 1/24th scale vehicle with the performance of a crawler mixed with the scale look of a full-size 4×4. Being a fan of micro vehicles, and a "crawling basher" myself (read, non-serious crawler with no intentions on competing) the Micro Trail Trekker was something I really wanted to review.
What's in the Box:
The Micro Trail Trekker comes completely ready to run. It features a 2.4GHz DSM radio system, 4.8V 220mAh NiMH battery, wall charger, and AA batteries for the transmitter. At this time, it is not offered in a Bind-N-Drive package. The MTT (Micro Trail Trekker) comes with front and rear solid axles with worm gear drive, locked front and rear diffs, 4-link suspension, a twin vertical plate chassis, and scale looking accents like bumpers, wheels, tires, and body. All this can be yours for $149.99.
Out of the Box:
The first thing I noticed about the MTT was it's length versus Losi's Micro Rock Crawler. This thing is significantly longer, while not being any wider. I also noticed the more "scale" appearing tires as opposed to the micro Rock Claws that come on the Micro Rock Crawler. While I don't think this truck is ugly per say, it won't be winning any awards for best dressed. However, part of the fun of a "scale" truck is making it look just that. Finding a little Jeep or Hummer body to fit on this thing will be fun to fabricate and give an awesome looking result. I really appreciated the 2.4GHz radio system, and the larger 220mAh battery. Also, the wall charger was a huge plus! No more draining 8 AA batteries to charge a micro battery.
Off and Running:
Stock battery charged, ready to scale it up! I started off with the included NiMH battery, but concluded pretty quickly I'd be switching to 2S lipos. While the NiMH battery was fine, the overall performance and runtime weren't really optimal. Run times weren't awesome depending on driving style and the wheel speed was quite slow. While this is okay as sometimes slow and steady is desired for a crawler; this is more of a scale truck. I quickly switched to 2S 220mAH lipos. They gave a solid 15+ minute drive time and significantly more wheel speed and punch. However, even with the 2S lipos, the MTT isn't at all fast. This isn't the type of scale truck that could do some light jumping, or any jumping really. This is a crawler and a trail truck. I am treating it as just that, but it is worth pointing out.
I have decided to handle this review a little differently, being that this is a micro vehicle. I think the biggest part of its appeal is the fact that it can be taken and ran almost anywhere. Plus it is a scale truck, so running in just rocks isn't really practical. Rather than focus on a dedicated rock crawling course, I took the MTT on a tour of The Complex (my 38 acre slice of RC testing heaven here in Indiana) to simulate all kinds of driving conditions. I wanted to find out not only if the MTT can perform, but also if it is a good fit for an owner with tons of rocks, hills, and trails, as well as someone with very little room at all. After the initial checks and some slight trim adjustments I was off.
The Elements:
I started off by tackling some medium sized landscaping rocks around a pond. The MTT climbs quite well, despite some of the rocks being larger than the vehicle itself. The scale appearance tires were soft enough to conform slightly to the rocks, and had decent grip (but not as good as I would have liked). The first thing I did notice is that when the suspension reaches full articulation, there is some significant front tire rub on the body. So much so that it affected the performance of the vehicle both in smoothness and turning ability. While I appreciate Losi's attempt to make this truck appear scale in nature, having the fenders affect the performance is a bit of a downer. I quickly fixed this issue with the help of some body scissors and a hobby knife. The trims are noticeable, but not enough to really take a ton away from that scale look. All of the pictures in this review are AFTER the body was trimmed.
While the longer overall length helped out on the look, I'm not sure it was a total plus in performance. The length does help when crossing gaps in rocks, however, it adds a much bigger chance for the MTT to get stuck in a teeter-totter position with a rock keeping the chassis up in the air so the wheels can't bite well enough to move the truck forward or backward. It's almost like slightly larger tires are needed to accommodate for the length. Plus, since no width overall width was added to the chassis, the MTT tends to tip over more often than I would have liked. Maybe I'm nit-picking a bit here, as this thing isn't going to be a competition level crawler, but it is worth bringing up. I think some additional weight in the front end would also help its overall crawling performance, but for the sake of this review, I left everything stock. The MTT had more than enough power with the lipo to perform in the rocks, and the servo seemed to work okay for the application. The servo saver does a good job of keeping you from completely destroying the front end components, but is a little weak.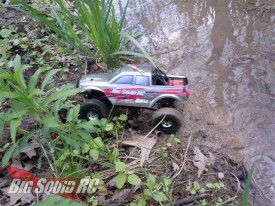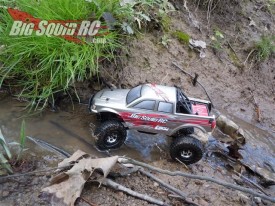 I took the MTT from the rocks into a sandy area by the lake. It handled great in the bumpy sand, and running along the shore line in a little bit of water. It actually looked pretty sweet. I was also able to crawl up onto some rocks under the dock that no other crawler would be able to reach due to its size. I was really starting to feel the scale thing! I then moved to a waterway that combined the elements of rocks, water, and mud. The rocks were a little sharper than the rocks around the pond, which caused some more issues for that teeter-totter problem I experienced earlier, but I found that doing a better job picking my path and driving into what the vehicle was capable of created a new level of challenge and fun. The truck is very light, so it didn't sink into the mud much at all, and looked awesome going through the water and up the little hills of the small runoff stream. The tires did slip a bit climbing muddy inclines. I'm guessing weight would have helped here as well. The tall grass around the stream proved impossible to pass, but I didn't expect the MTT to handle it. It isn't meant for grass running unless it is quite short. Lastly, I hit the landscaped area close to the house, climbing over sidewalk lips, uneven mulch, small roots, sticks, and a rather active and angry ant hill. It handled all of that quite well, and was quite fun to drive through.
I proceeded to run a bunch more packs through the MTT outside before heading inside as the rain began to fall. I had one last charged pack so I decided to "build" a crawler/scale course using only stuff I had sitting around my desk and workshop. This proved to be a total blast! It was tons of fun building up obstacles and trying to navigate through them. I started off simple with some RC tires, video game cases, and a controller. After I ran the course a couple times, I'd add some more elements to it. Before long, I had suspension bridges built out of tape and Popsicle sticks, multiples levels built with pillows and RC boxes, and all sorts of other obstacles scattered around. As the rains poured down outside, I crawled around and modded my course for two more hours! Throughout all the testing, nothing was broken. The only thing I've noticed is that the servo saver seems to be weak and doesn't want to tighten up like it should.
Summary:
Overall, the Losi Micro Trail Trekker is a good addition to anyone's micro vehicle stable. It isn't without its flaws, however. The scale look Losi went for works, but actually takes away from the overall performance of the vehicle. Some larger tires, a wider stance, and a body that actually fit without modding would take this vehicle from good to great (at the sake of looking scale, of course). It would also be cool to see some motor or gearing upgrades to give this thing just a little more speed if you're looking for more scale and less crawl. The real appeal the MTT brings is the fact that it can be ran anywhere. I had just as much fun inside, building a makeshift course, as I did outside ramming through the rocks and streams. I could see having a blast building a real "scale" course inside with rocks and sticks, and even some water for all those rainy days and cold Indiana winters. As always, if you see us at the track or bashing around, make sure you stop by and say hey, maybe take a test drive, and definitely score some stickers!
Scores:
Time to Bash: 8.0/10 – Charge the battery (trimming the fenders and lipos are optional) and scale away!
Workability: 7.5/10 – Micro stuff is hard to work on, but the MTT is far from the worst.
Car Show Rating: 7.5/10 – This is more personal preference. Some like it, some hate it.
Bash-A-Bility: 9.0/10 – No breaks, but the servo saver has gotten weaker despite being tightened up.
Big Squid Rating: 8.0/10 – For a micro scaler, this is a capable truck. If you blow the scale look out of the water and add lipos, this thing could really perform!