Losi Mini Desert Buggy
While Losi has been notorious recently for hyping releases. It seems odd then that the Losi Mini Desert Buggy nearly went unnoticed. Based on the Mini-T/Mini Slider platform, this new scale buggy looks like it has what it takes to be a solid performer. The first thing a person will notice about is the scale roll cage. With scale appearance all the rage, this will be a big plus. Better yet, they remembered to put a driver in there.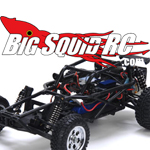 The wheels and tires bear resemblance to full size dune buggy treads. The electronics are above-average for an RTR. The radio uses Spektrum technology, and the ESC is LiPo Compatible. This buggy is a true RTR, including everything you need, right down to a 1100mAh battery, a charger, and AA's for the transmitter.
Drop by Losi's website for more info.