There are a couple of trends that we've been seeing in recent years. We've been seeing vehicles get bigger and more scale looking. The Losi Super Baja Rey is not only big, coming in at 1/6th scale, but it is also designed to look exactly like a full sized short course race truck. The big Losi also sports serious power thanks to a large Dynamite brushless power system. Then, when you throw in its high tech Spektrum AVC electronic stability system, it has all the makings of an epic modern bash machine. Does all of its bells and whistles make it a good truck? How hard can you beat on it? Is it worth your hard earned cash? You know how this works, read on to find out the scoop… Also, don't forget to check the video we did at the bottom of the review!
From: Losi
Direct Link: Super Baja Rey
Review By: Cubby
Photography By: Tim Mohr
Specs: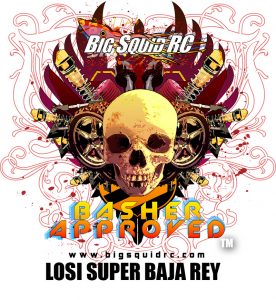 RTR or Kit: RTR
Age: 14+
2wd or 4wd: 4wd
Shaft or Belt: Shaft
Electric or Gas: Electric
Waterproof: YES
Scale: 1/6th
Length: 30.5 in (774.7mm)
Width: 15.6 in (396.2mm)
Wheelbase: 19.5 in (495.3mm)
Weight: 19.45 lbs without batteries (8.8kg)
Motor: 58 x 88 mm 1200kv Non-Sensored Brushless
Speed Controller: Dynamite Fuze 1/6th Waterproof 160A ESC
Low Voltage Cut-off: Yes
Radio: Spektrum DX2E Active
Differential: 3 gear style diffs
Slipper Clutch: No
Driveshafts: Metal
Shocks: Aluminum bodies, oil filled
Servo Saver: In steering rack
Screws: Metric, hex
Spur/Pinion Pitch: Mod 1
Bearings: Yes
Tires: Losi scale tread
Battery: Not included
Part Number: LOS05013T1 / LOS05013T2
Warranty: "free from defects in materials and workmanship at the date of purchase"
Bashing Specs:
Front wheel travel: 4″
Rear wheel travel: 5″
Wheelie on demand: No
Backflip off ramps: Didn't try
Stability Control: Yes, Spektrum AVC
Sound Module: No
Self-Righting: No
FPV: No
Top Speed (measured by BSRC): 53 mph
Street Price: $799
Primary Competition: In the 1/6th scale division you won't find a whole lot of different vehicles, but there is the formidable Traxxas X-Maxx.
What's Needed To Complete: The Super Baja Rey comes as a RTR and is fully assembled. To get the beast up and running you won't need a lot, but you will need 4 to 6S worth of LiPo power for the truck, four AA cells for the transmitter, and a battery charger.
Build Quality: Out of the box we could find no faults with our test sample. The wheel nuts were tight, the pinion/spur mesh was perfect, and the shocks stroked smoothly without being over, or under, filled.
Test Drivers: Brian, T-Money, and yours truly.
Test Venues: Just one, Badlands Off Road Park just outside Attic, Indiana. Badlands offered just about everything a hardcore off-roader could want. It had hundreds of acres of sand, large rock sections, endless whoop-de-dos, gravel, and even a full blown motocross track.
Set-up Notes: Like we always do, we ran the Super Baja Rey bone stock. It went straight from the box to being abused by us. For power, we ran both 4 and 6S worth of LiPo power thanks to Dynamite Reaction batteries. Charging was done by a Dynamite multi-port charger.
Turning: What does the Super Baja Rey turn like? Very much like it's smaller 1/10th scale sibling. The Super has a lot of weight over the front, this helps keep the front tires glued to the ground while cornering. The rear tended to feel a bit loose, which helped for rotation in tight 180's, but worked against it in fast sweepers. Overall, the Super Baja Rey cornered in a very scale manner.
Jumping: While most solid rear axle vehicles tend to jump with a decidedly nose down pitch, the Super Baja Rey isn't nearly as bad. Yes, it still tends to jump slightly nose low, but not bad enough to be of a major concern. Our Bash Crew was able to get in loads of airtime with the Super Baja Rey and we thought it was an outstanding jumper. The Losi tended to ignore all but the worst of kickers and ruts on jumps faces, mostly thanks to its large size, and its suspension did an admirable job of soaking up landings.
Bumps/Whoops: Oh ya! Bumps and whoop-de-dos are exactly where the Super Baja Rey really shines. While the rear can step out when pounding deep whoops WFO, for the most part the Losi is big enough to ignore most "normal" sized bumps. For us to really get the truck out of shape we had to attack large rock sections (with rocks the size of your shoe) or hit giant whoops made by full sized ATVs at warp 6. The Losi has a tremendous amount of suspension travel which of course helps it make short work out of all sorts of gnarly terrain.
On-Road: Nope, can you even believe it, we didn't get a chance to do any on-road driving with the Losi. Our review time was quite short (more on this in the misc area) and we spent it all in a hardcore off-road environment. The closest we got to pavement with the Super Baja Rey was a rutted out gravel road.
Grass: With a shortened test schedule, we got in a limited amount of time grass driving. However, we did find out what we needed to know. Those giant tires and big brushless system did a great job of spewing a giant grass rooster tail. If your primary bash area is grass, you are gonna love the Super Baja Rey.
Tires: The stock tires did a solid job for us, even though most of driving was in soft to loamy dirt and sand. They sport a nice scale inspired tread design and the foams were right in the ballpark for general off-road driving.
Power: The stock brushless power system did a fine job in our test truck, but we found we liked it a whole lot more on 6S than on 4. On 4S the truck had decent power through the bottom and mid-range, but tended to sign off early up top. Switching over to 6S really brought the Super Baja Rey alive. It instantly had a much harder kick right off the bottom and pulled like a Banshee up top. Unlike some vehicles, the Super Baja Rey isn't overgeared on 6S, meaning that temps were in a normal range where it could easily be driven for an extended period. Overall, the Losi is a huge (and heavy) truck but it comes with more than enough power system to make it feel fast.
Radio: Included with the Losi is one of the newer Spektrum DX2E Active radios. We never experienced any glitching and we had more range than we ever attempted to use during our testing period. By the way, because the truck comes with an Active version of the DX2E, you can bolt on the Active speedometer, plus you can add telemetry, etc.
Broken Parts: Ya know, we think the Losi crew that was out watching us test might think we've lost all our marbles. LOL. Yes, we were extra hard on the Losi, but that was because we HAD to be. Why is that? Well, we kept doing all sorts of stupid stuff to it and it would not break. LOL. However, because what we do is test cars, we had to find the Super Baja Rey's limit.
With that said, where we were testing had a 65 foot tabletop on its full sized motocross track. We hit it a few times and absolutely launched the truck, and it landed with zero problems. However, on a later attempt our pro driver guy was trying to do some sort of sick Bubba scrub and things went all wrong. LOL. Basically the truck landing on its lid from 15 feet high in the air, to terra firma, at 40 mph. This ended up snapping off one edge of the front shock tower. While we were bummed to see the truck finally break, that also meant that the truck was a bit broken, but still drivable. What does that mean to the BigSquidRC Bash Crew? Time for a roof jump!
Brian had seen a giant three story scoring tower when we pulled up to the motocross track, so we figured out a way to get the Super Baja Rey on the very top, then hucked it off. Was the truck destroyed? I mean, think about it, jumping a heavy 1/6th scale vehicle from the roof of a 3 story building is sure to destroy it, right? Wrong. The Super Baja Rey suffered no damage! We hucked it off, and it was able to drive away. But of course if one roof jump isn't enough to really break it, a second was in order, so that's what we did.
On the second jump we tried to launch off the peak of the third story roof. Let that sink in for a just a minute. Needless to say, our driver couldn't get enough speed for a launch off the small peak. This resulted in a bad landing that ended up breaking the rear axle housing. That may have ended our day of testing, but the truck withstood so much abuse that we were left utterly impressed on how much punishment a truck of its stature could withstand.
Misc Notes:
One thing that we are seeing (and digging) more these days are LED lighting kits coming stock on RTR truck. The Losi comes with a huge light bar on the front and a smaller unit on the rear of its cab. Both worked well for us and added a great touch of scale realism.
We never really noticed the stock servo. Actually, we did notice that it had more than enough torque to keep the beast's wheels turned at speed. Otherwise, it had enough speed that none of our test drivers complained.
Just like on the smaller 1/10th Baja Rey, the Super uses the same style of battery tray. There is a locking door that is accessed in front of one of the rear wheels. While that isn't an optimal set-up, it worked OK for us.
What's it really like to drive the Super Baja Rey? Well, it isn't nimble like an 1/8th scale buggy, it is a big hulking machine. However, for its size and weight the truck was quite maneuverable.
If you are used to driving smaller 1/8th or 1/10th sized trucks, the big Losi will feel much different to you. Instead of feeling darty, it just pounds over (or through) anything in its path. Its tremendous size allows it to go places that an 8th scale just can't go, like over large rocks, big dirt clumps, and over wider chasms. All the extra size and weight also make it more stable and easier to drive than smaller scales.
Hey, how does the AVC work on the Losi? Just fine actually, and we tended to dial in about 50% while bashing on loose surfaces. Seriously folks, AVC does wonders for making your driving experience better, we know it did for us on the Super Baja Rey.
The way we tested the Super Baja Rey was much different than our normal test routine. Because of BigSquidRC getting an exclusive first test on the truck, we had one day to drive it, film it, take video of it, and to break it. We normally spend around a week with 3 or 4 guys doing a review, our test period was much shorter with this Losi. So while we didn't get in nearly as many packs as we normally get to, it was fantastic to have the Losi guys right there to answer any of our immediate questions.
Beefy? Ya, we think the Losi guys were really thinking of us bashers while designing the Super Baja Rey. When you look over the truck and see just how overbuilt some areas are, you gotta appreciate they are looking out for the hardcore bashing crowd.
Best Mod: Our test truck had no glaring faults out of the box. There just wasn't anything that screamed that it needed to be replaced immediately to us. Therefore, we would recommend spending your first cash on scale accessories or items that help customize it to your specific driving (like shock springs and oil).
---
Summary:
A = Outstanding/Best in Class, B = Above Average, C = Average, D = Below Average, F = Horrific
Time To Bash: B It didn't take us long to get the Losi up and running. We put some batteries in the transmitter, then a pair of 3S Dynamite LiPo batteries in the truck. EC5 connectors come standard.
Workability: C There is a price to be paid for all those awesome scale looks, that is when it comes time to spin wrenches. No, the Losi isn't as easy to wrench on as a truck with a "traditional" layout, but we didn't find it difficult either.
Car Show Rating: A Is there a better looking large scale vehicle on the market? We don't think so. From the LED lighting to the driver figures, there are scale touches everywhere, thus making the Super Baja Rey a fantastic looking truck.
Bash-A-Bility: A How tough is the Super Baja Rey? Well, we treated our test unit with the utmost disrespect and it held up like a champ. It took all sorts of stupidity to break it, making it arguably the toughest large scale vehicle that we've tested.
Fun Factor: A Wanna have some fun? Get some guys together with 6th scale 6S LiPo/brushless trucks. Just imaging all that power bolted to an enormous truck that can obliterate an 8th scale truggy. Yes, the Super Baja Rey is an absolute blast to drive.
Handling: B The Losi is big on stability and quite easy to drive, even at crazy brushless speeds.
Value: A While a $799 price point does leave a dent in the wallet, you are getting a huge truck that is loaded with performance and scale realism in return. That, in our eyes, is a solid value.
Parts Availability: N/A At the time of this writing the truck has not been announced to the public.
BigSquid Rating: A- The Losi Super Baja Rey is a beast! It easily pounds over terrain that some smaller trucks couldn't even dream about getting over, and does it while looking like a real truck. We are huge fans of the Super Baja Rey and can highly recommend it to people looking to get some serious scale realism with their next hardcore bash machine.
Check the video below. Click on over to YouTube, we shot most of this in 4K!