From: Losi Racing
Direct Link: Losi TEN SCTE
Review by Cubby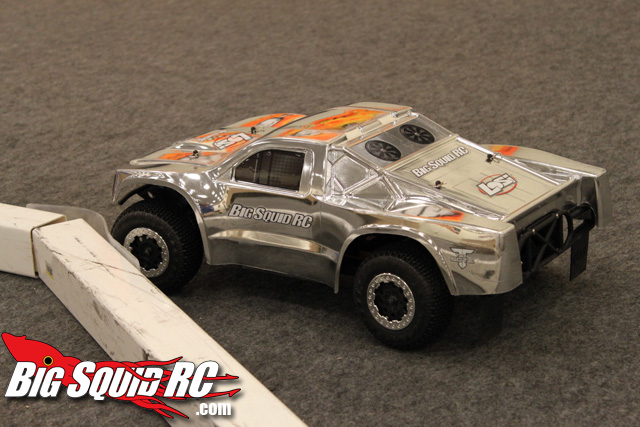 What's the fastest growing class here in the good ole' U S of A? The 4wd short course class is of course! Sporting the realism of their full sized counterparts, and 4wd systems that make them easier to drive (and more fun to bash!), it's no wonder this genre is blowing up. Losi has now jumped into the 4wd SC battle going up against Ofna, Jammin and Traxxas with their new Ten SCTE ARR. Just how does it stack up?
Specs? We got your specs-
1/10 Scale 4wd Rolling ARR
12mm Aluminum Big Bore Oil Shocks
Velcro Battery Straps
12mm Wheel Hexes
4mm Tie Rods With Captured Ends
Beadlock "Style" Rims
Sway Bars Front and Rear
Losi Eclipse SC Tires
Radio Box
Aluminum Motor Mount
Black Anodized Aluminum Chassis
Length- 21.34 in
Width- 11.65 in
Wheelbase- 13.15 in
Weight ARR- 6.75 lbs
Street Price- $299
What does it take to get the Losi Ten SCTE ARR running?
Speed Controller
550 motor
Steering Servo
Battery Pack
2-Channel Radio System
Polycarbonate Paint
Motor Pinion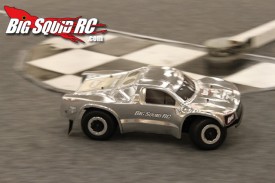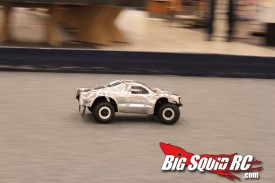 Gear we installed-
Castle Sidewinder SC speedo
Castle 1410 1Y 3800kv 4 Pole SC motor
Hitec 7950 servo
MaxAmps 2S 6500 Lipo Battery
Futaba 4PL and Receiver
Spaz Stix Chrome Paint
Castle Mod-1, 5mm Bore Pinions
Robinson Racing Pinion Sleeve
How long did it take us to get everything installed?
1. First thing we did was bust out some way-super-dope Spaz Stix chrome paint. The Spaz Stix chrome paint looked great after only one good coat, and dried quickly. It took us about 10 minutes to apply the window masks and lay down a heavy coat of paint.
2. Due to the worlds best motor mount it only takes about 5 minutes to bolt in the motor. The Losi motor mount is the best on the planet and whoever designed it deserves a huge raise (now if only they could engineer it to securely hold the rear of the motor as well!). It only takes one screw to remove the motor mount, and two screws hold the motor to the plate. Setting pinion/spur mesh is incredibly easy to do with the uber Losi mount. All in all, we spent about 10
minutes mounting up the motor.
3. Next, we took out 3 screws and removed the battery tray. With battery tray in-hand, we mounted down our speedo with double sided tape, then ran the speedo signal wires under the tray in the provided groove to keep them out of harms way. Once again, super easy to do, and this took roughly 10 minutes.
4. Time to install an uber Hitec servo, so we took out the 3 screws it takes to remove the radio box/servo plate. Once the radio box was in-hand we installed the servo and receiver, then bolted everything back down. You are looking at perhaps 10 minutes for this step.
5. Finally, turn on the radio system (making sure steering trim is centered) then bolt the servo arm on. Next, calibrate your speedo. This also goes quite quickly, and took us about 5 minutes.
6. Your paint should be fairly dry by this point, and hopefully your first battery pack is almost ready. The Losi body has already been trimmed, all you have to do is remove the over-spray film and window masks, apply the stickers, than mount that baby up!
All in all, you are looking at about an hour to do this, roughly the amount of time it takes to charge a battery and for the paint to get some drying time.
Of Note- Later in testing we took out the Castle Sidewinder SC system and installed a Castle Monster speedo and Neu-Castle 1512 1Y 2650kv motor. The Monster speedo bolts up with no problems but the motor requires slight trimming of two plastic pieces to fit properly.
Gearing We Used (utilizing stock spur and 2S Lipo)–
13 tooth pinion on the Sidewinder SC 3800 kv system used on a 80 ft x 40 ft
ozite track. Low temps, more than enough power for a small track, and great run
times.
15 tooth pinion on the Sidewinder SC 3800 kv system used for bashing. Decent top
speed, reasonable temps, felt quick.
17 tooth pinion on the Monster 2650 kv system for bashing. Extremely low temps,
decent top end, and massive roost power.
General Driving Impressions
Test Drivers– Cubby (yours truly), Hawaiian Chris (basher and regional racer), Wade B. (regional racer), Tim Mohr (Castle factory shoe)
—
Turning– While testing, we were lucky to have a Slash 4wd, Ofna 10SC, and Jammin SCRT-10 along for comparison. The Losi SCTE simply has more mechanical grip (the
entire way through a corner) than its competition, giving it higher corner speeds. Corner entry is well planted, mid corner feels like it's using Koford for tire sauce (read- absolutely stuck to the track), and punching it hard at the apex leads to the rest of the truck following exactly where you have the front tires pointed. It doesn't feel like it corners on the edge of a knife, it's not darty, the Losi SCTE corners smoothly while maintaining great speed. If you are coming from driving a 2wd SC and the Losi is your first 4wd, you will think you've died and gone to heaven the SCTE corners so well. The only steering area the Losi SCTE lacked was turning radius, where the
Traxxas is still king of the 4wd SC field. With a tighter turning radius, and much more ackerman, the Traxxas 4wd still owns those slow ultra tight 180's, but in every other type of corner, the Losi has the field covered.
While the Losi SCTE isn't the best cornering vehicle "ever" made, it is the best in the 4wd short course class. The SCTE is quite neutral and corners well both on and off throttle. Give the Losi more ackerman and a bit tighter radius and it would absolutely pwn the corners.
Jumping– Once again, if you are a driver coming from the 2wd SC class and this is your first 4wd, you won't believe how good the Losi SCTE jumps. Combine the extra rotating mass of 4wd and its center diff, and the SCTE jumps incredibly well. The SCTE shocks absorb take offs well, and feel great on landings. If you suck at jumping with a 2wd SC, the SCTE will make you feel like Superman, capable of jumping anything and landing it. The Losi is also quite forgiving allowing you to land a bit sideways without repercussion.
Bumps/Whoops– Gotta give it up to the SCTE suspension as it soaks up the bad stuff and just keeps on truck'n. Stock spring rates and damping are right in the ballpark, and its geometry as a whole works well. The Losi shocks also produce the least amount of stiction of any on the market, making them feel quite supple, even at low speeds. As a whole, when you enter into a particularly rough blown out section of track, the Losi comes out straighter (and faster) than its competition.
Bashing– So how does the Losi Ten SCTE feel while bashing? We drove dozens of packs on pavement/grass/loose dirt, and it's impressive. The SCTE doesn't feature the ground clearance of monster truck bashers, but what it lacks in ground clearance it makes up for with its impressive steering, stable overall handling, and general "smile/fun" factor. The included tires are a step up in hardness from race tires, so they actually last a while, but they are still soft enough to get decent traction on most any surface. Out of the box, the SCTE doesn't traction roll on pavement either, a big plus when you go out bashing with your homies. To boil it down, the SCTE is a great basher- its fast, corners well (yet not too sharply) and doesn't break when you accidentally tap a curb.
Misc Notes–
1. Dear Losi- PLEASE include a suitable pinion and/or pinion sleeve with the SCTE. In many areas of the country (world!) pinions and/or pinion sleeves that are needed to get this kit running are not just sitting on a shelf at your LHS. Include a pinion to make sure everybody at least gets running without grief.
2. The SCTE uses a different offset of rim than anything else on the market. This just plain sucks. And not only are they a different offset, the beadlocks are faux. The tires are glued on, and the faux beadlocks are head on with 4 screws. Btw, we attempted using Pro-Line ProTrac rims, but not only are they a different offset, they bind slightly when tightened down. The SCTE should be compatible with common rims.
3. Out of the box the velcro battery straps overhang and can touch the center driveshafts, so we spun ours around facing the opposite direction, allowing the excess to hang off the side of the truck, instead of into harms way.
4. Before we blew all the oil out of our center diff, it was too thin. A few "k" higher would have made an already great handling truck even better, and would be an easy running change at the factory.
5. Stock sway bars are very soft, good for bashing, bad for high bite cornering.
6. The truck comes ARR with very little assembly required. If you are a seasoned rc'er, you'll have no problem getting the truck running. But… if you are a noob, the instructions are practically non-existent, and those that are there were obviously written by a hobby vet. One of the gals that works in shipping (and has never built an rc car before) needs to be writing the instructions on how to finish up these ARRs.
7. I have never seen a well built RTR or ARR before, well not until testing the SCTE. All the screws are tight (but not stripped) and nothing was binding. I haven't taken the entire truck apart yet, but from what I have, everything was built exceptionally well. Yes, I said the word exceptionally. Whoever is looking over the assembly line is doing a good job and deserves a raise. Heck, all four shocks even came filled with the proper amount of oil and weren't leaking, now
that's saying something! Best built RTR/ARR I've ever seen.
8. The Losi SCTE has more beef to it than even the Slash 4wd, and it makes both the Ofna and Jammin look extremely brittle. The a-arms are much beefier on the Losi, as it is with pretty much every part on the truck compared to the comp. Just by looking at the truck it's obvious it can take a much heavier hit than any other truck in the 4wd SC class. If you are gonna play 4wd SC demo-derby, you better be driving an SCTE.
Problems We Encountered–
1. The center diff on our test Ten SCTE started spewing diff oil after the third battery pack. This did not seem to be a build quality issue, it is a part problem.
2. The Losi should be a fairly quiet truck, but it's not. The center diff outdrives on our test truck were flopping all over the place making one heck of a racket.
SUMMARY
Time To Bash – 8.0/10 -Buying an ARR isn't the fastest way to hit the track, but it's a lot quicker than a kit.
Workability – 9.0/10.0 – Major components are laid out in such a way they are exceptionally easy to work on.

Car Show Rating – 9.0/10 – No, the SCTE isn't covered in chrome, but it's generally considered the best looking in its class.

Bash-A-Bility – 10.0/10 – We broke absolutely zero while testing, that's what we like to see!

Big Squid Rating – 9.0/10 – Tentacles. The Losi Ten SCTE is the best overall truck in its class. But perhaps more importantly, it's not just the best truck for racing, it's also the best for bashing, making the SCTE one very special truck indeed.
Don't forget to check out the unboxing pictures we posted recently also!