Losi TEN-SCTE – 4×4 short course truck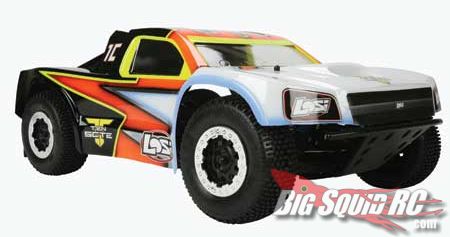 It's finally official.  Losi's TEN-SCTE, which has been in development for some time and been seen being tested on many tracks, is finally here and it appears to have been worth the wait.  The TEN-SCTE is certainly going to be a powerful weapon in the 4×4 short course wars.
As the name implies, the TEN-SCTE is based on the TEN-T 1/10 scale truggy, which is also the same platform as the 810 buggy.  But, it's been converted to electric use, with brushless and LiPo power in mind.  It's got the 1/8 scale bred drive train with three diffs and heavy duty CV drive shafts and axles.  It rides on a black anodized, light-weight aluminum chassis.  For better durability the TEN-SCTE is set up to run Mod 1 gears, which are typically found on 1/8 scale vehicles.  12mm hexes are used to turn the bead lock look wheels with Losi's own Eclipse short course tire.
This sounds like it's going to be a super tough truck.  Initially it's going to be available as a roller only, requiring radio gear, a 550 brushless motor and ESC, 2S LiPo, and paint on the body.  List price for this bad boy is going to be $449.99, street price likely much cheaper, and it should be hitting shelves sometime in February.  Check out Losi's site for more details.
We have a couple videos posted after the break, be sure to watch the Gary Katzer interview with the SCTE's designer, Ryan Dunford, for some cool insights into the design plus the option of converting it from electric to nitro.