Losi XXX-SCT details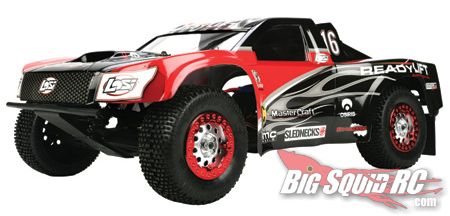 We showed you the early video of the XXX-SCT that Losi uploaded yesterday, and now today they have officially released the details.  The XXX-SCT is going to be available as a RTR and Bind-n-Drive.  It's power will come from Losi's LM32K 550 motor by way of the LiPo ready, water resistant ESC.  The shocks are Losi's old bottom loading style, no fancy threaded shock bodies.  The body will be dressed up in the Sean Geiser ReadyLift Toyota livery that has been seen previously on the Mini SCT. But my favorite piece is definitely the wheel set.  They just look good.
You should see the XXX-SCT hitting the shelves in early December, just in time for the holidays.  MSRP will be $299.99.  Check out the Losi web site for more details.
One thing to note is Losi has also developed a new Short Course tire to go with XXX-SCT.  Based on their popular Eclipse tread pattern from the 1/8 buggy and truggy realm.  They should be hitting shelves late November for about $20.
Losi XXX-SCT gallery