Losi XXX-SCT Short Course Truck Review
THE Losi XXX-SCT BND Short Course Truck Review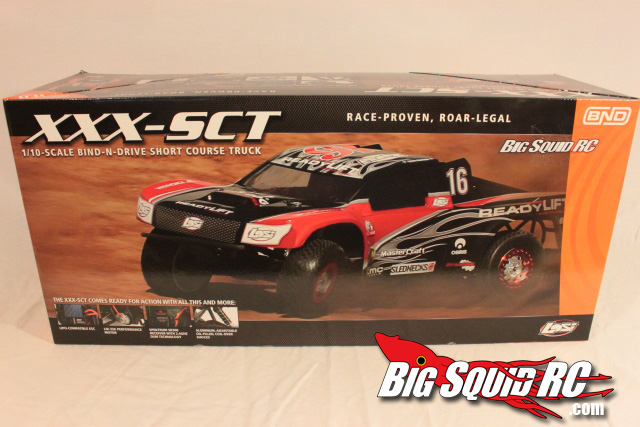 Better late than never? A Losi XXX-SCT finally landed on our doorstep for a good ole' fashioned bashing. How did it hold up? Read on my friends…

From: Horizon/Losi
Direct Link: Losi XXX-SCT
Review By: Cubby
Pics By: Cubby
Specs:
RTR or Kit: Neither, BND (Bind and Drive)
Age: 14+, sorry 13 and younger
2wd or 4wd: 2wd
Electric or Gas: Electric
Scale: 1/10th
Length: 21.65″
Width: 11.45″
Wheelbase: 12.99″
Height: 7.48″
Motor: LM32K, 12 Turn 550
Speed Controller: LiPo Compatible
Radio: Not included
Tranny: 3 gear
Differential: Gear Diff
Slipper Clutch: Included
Driveshafts: Metal
Shocks: Metal bodies, oil filled
Screws: Hex head
Bearings: Full set
Tires: Losi Eclipse SCT
Waterproof: "Water Resistant" speedo
Street Price: $190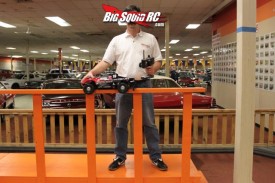 Primary Competition: Venom Gambler, Associated SC10, Traxxas Slash, HPI Blitz, ECX Torment
What's In The Box: I'll go with what wasn't in the box, as a Bind and drive you'll need a Spektrum transmitter, a battery pack for the truck and a battery charger.
Build Quality: The XXX-SCT is very similar to the XXX-SCB buggy I reviewed a few months ago, but… our SCT truck had a few issues our buggy did not. When I first pulled the truck out of the box it was missing the screw that went through the front bumper brace into the front shock tower. That's a pretty important screw to be missing as it helps hold the front bumper and front tower on the truck. Then… after I had bound the truck to my Spektrum equipped Futaba 3PKS transmitter I found that no amount of trim would center the front wheels, this resulted in me having to remove the servo from the truck and re-center the servo horn. I also found one very loose ballstud in the steering rack, and one shock leaking out of the box. Lastly, one of our rear tires was really out of balance, I've seen some pretty bad ones on Slash's before, but this was the worst I've ever seen. The other 3 tires on our Losi were just fine.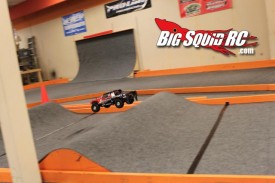 Test Drivers: Cubby, Brian, Tim, Hawaiian Chris
Test Venues: Jake's Race Place in Fairmont City Illinois, St Louis Dirtburners in St Louis Missouri, Leisure Hours in Joliet Illinois, backyard
Set-up Notes: Tested bone stock with the exception of a Traxxas connector. Futaba 3PKS with Spektrum module used as the transmitter, MaxAmps 2S 6500 Race Spec batteries were used.
Turning: Our XXX-SCT was clearly set-up for high bite surfaces. On a high bite carpet track the truck would not traction roll and maintained very grip good through the corners. The front end was well planted at corner entry and the rear showed good side bite, perhaps the best 2wd SC we've driven on high bite. Outdoors on the rough St Louis Dirtburners outdoor track the SCT didn't fair as well as other 2wd short course truck we've tested. It didn't seem to bite hard enough at corner entry and did not rotate as well as others in its class on ultra tight 180's. Overall? It'll out turn a Blitz all day long, but didn't carve the same inside lines as a Gambler.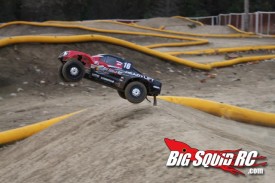 Jumping: The Losi exhibited above average manners over jumps. On rutted jump faces the Losi tended to be easier to control than others in its class, and certainly could be landed at more extreme off angles without crashing. You could also land the Losi a bit more sideways without flipping immediately upon landing. On the windy Dirtburners outdoor track it had roughly the same amount of parachute effect as its competition.
Bumps/Whoops: The SCT doesn't come set-up with a lot of downtravel and this hurt it in the bombed out sections of the track. Not that it tracked poorly, it tended to be fairly stable in the rough, but there are others in its class that could go through the truly rough stuff with more control.
On-Road: Hitting the pavement with the SCT was a blast. You had to catch an edge in the pavement to get it to roll and generally it turned where you wanted it to go, much better than most of its competition.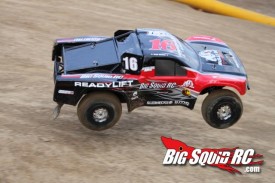 Suspension: Spring rates, pistons and oil weight were all in the ballpark for "general" driving conditions. The shocks were typical Losi with very supple action.
Tires: I liked the stock Eclipse tires, they are soft enough to get good traction, but hard enough to not burn off in one run. The included inserts were fairly soft which is great for low traction dirt use, yet they were just firm enough to work ok on high bite carpet.
Power: I didn't check top speed with a radar gun but on track the Losi felt roughly the same speed as the ECX Torment we recently tested. The XXX-SCT has nice, easy to drive power with enough zip to make nearly all the jumps at a normal track. The stock motor has very usable bottom end and mid range but signs off really early up top.
Broken Parts: I start hucking a truck off the roof after it hasn't broken during normal use, our XXX-SCT didn't make it that far before breaking. We broke a left front a-arm after smack'n a pipe on an outdoor track, and broke a left rear hub when catching a small curb at an weird angle. The SCT's plastic seems to be a fairly flexible blend so it should be fairly tough, unfortunately ours broke earlier than we expected.
Best Mod Under $5: Easy, cut off the freaky plug on the speedo and replace it ASAP with one from Traxxas.
Best Mod Over $5: The stock steering servo is slow, doesn't center well, and doesn't have a lot of torque, replace it ASAP with a Hitec to really enhance the turning capabilities of the truck.
Misc Notes:
E-clips? Seriously? Captured hinge pins for the win next time Losi.
The motor came with a very small pinion yet had a ton of unloaded rpm and ran Very hot. I highly recommend water dipping if you don't plan on replacing this motor immediately.
Check the SCT after every run for ballstuds working their way loose from their locknuts up front.
I highly recommend installing an STRC rear lower bulkhead ($17). The stocker is plastic and the screws come loose after nearly every run.
We bent some of the stock tie-rods/rod ends. They didn't break, but it wasn't uncommon to pull off the track because a tie rod had bent and a tire suddenly had 8 degrees of negative camber instead of just 1.
---
As with all of our stuff, if you see us at a bash, stop by and check out the vehicles we have with us. We may let you take a test drive, and at the very least get you some stickers!
SUMMARY
Time To Bash – 6.0/10 -Having to re-center the servo horn was an unexpected delay. Having to find a screw for the front tower wasted even more time.
Workability – 9.0/10 -Pretty standard truck layout this is easy to work on.
Car Show Rating – 8/10 – I personally loved the look of the truck, others in the office thought it was just average.
Bash-A-Bility – 7/10 – Our XXX-SCT broke parts when others in its class would not have.

Fun Factor – 7.0/10 – The SCT was fun to drive but little issues kept us from really having a blast.
Handling – 8.5.0/10 – For high bite track use the Losi SCT rocks.
Power- 8.5/10 – Compared to other brushed RTR SCT trucks the Losi was right in the ballpark, tractable, easy to drive power.
Value- 7.0/10 – The BND version of the XXX-SCT was intended to save people money who already own a Spektrum transmitter. But… you can get arguably a better bashing machine in the ECX Torment (that comes with a Spektrum transmitter) for $30 less.
Big Squid Rating – 7.6/10 – Tentacles.. The Losi XXX-SCT is an admirable track machine with a legendary heritage, but for bashing purposes there are better trucks in its class.