Losing Grip – Accepting Not Perfect
I recently told Boss Man Brian that I was about to adjust the brakes on my Mamba X ESC so that my rock bouncers neither would roll away when standing on a steep slope, nor do a front flip when the throttle is released from full speed ahead. For testing drag brake strength, and climbing abilitiy, I have a nice, smooth, steep granite rock face less than a hundred steps from my front door. The incline is roughly sixty degrees, a bit past the comfort line when it comes to walking up it. I like my cars to be able to drive up and down slopes that are just about too steep for me to walk – more than that certainly isn't needed, but less would somewhat limit where I can drive them around where I live.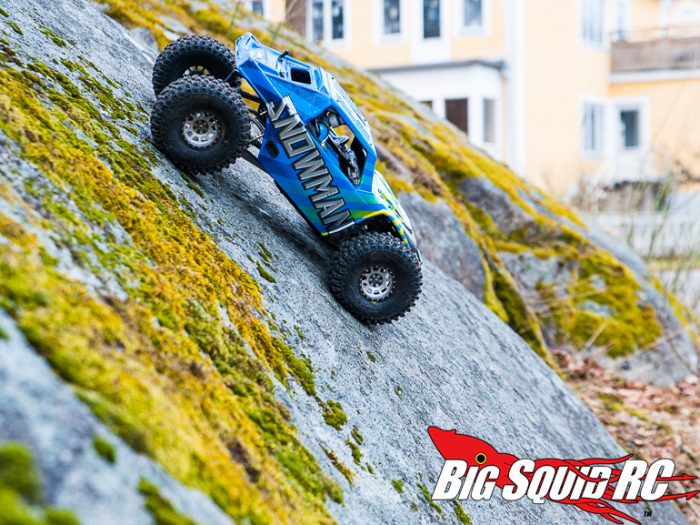 I also like them not to roll away when parked on such a slope. This is part of the reason why I love the auxiliary wire on the Mamba X, with the flick of the third channel on my transmitter I can switch between first gear with crawler mode (instant reverse and 100% drag brake) and second gear with rock racing mode (first break, then reverse, and break strength and speed set to my liking). While the Axial Yeti (sadly discontinued, may it rest in peace) might never be great at anything (especially not tight turns), this feature does make it a pretty good all round rig. I can crawl in first gear, throw roosters, rip donuts and jump several yards in second.
Once set up, this feature of the Mamba X is easy to understand, my Squiddlings has used it comfortably since the age of seven, when I first got the car.
The mission, as stated, was to setup the rock racer mode so that when my Squiddling lets go off the throttle from full speed (as she is want to do), the car wouldn't do a front flip, and when she lets go of the throttle in the middle of a steep slope (as she is also want to do), the car shouldn't roll away. As a venture concerned, this wasn't unlike trying to set up my drifters to drift equally well on the rough asphalt outside my house in Australia, as on the smooth walkways in the nearby park. That is – something has to give.
Perfect had to give.
Turning down the speed at which the drag brakes engages from "instant" to "moderately quickly", or something like that, certainly helped banish the front flips. But even at 80% drag brake strength, the car will roll when on a steep slope. If the brake engaged immediately, it probably wouldn't, since the car wouldn't gain the momentum that makes it too hard for 80% drag brake to stop it, but then it would definitively flip when one lets go of the throttle. Especially when jumping, and that is not a pretty sight. If I turn up the drag brake strength to 100% in rock racer mode, I won't be able to switch between the two different modes, since that requires a difference in drag brake strength. It could be that I don't fully know how to utilize the finer points of the rock racer/crawler feature, if so, please indulge me at martin at bigsquidrc dot com.
Anyway, fiddling with the feature during a gloomy weekend afternoon, letting my girl Squiddling try and review the different settings, was a good lot of fun. And not achieving perfect, was actually a bit of a relief. In the end I was happy to accept the fact that this car, and probably not any else, can't be setup to do everything great. While the middle road might not always be something to strive for, once strife has proven insufficient, it turns out that it can be a nice trail to walk. Especially when accompanied by a squiddlings behind the trigger.
Still, it is an overarching question that begs for an answer: which is the best all-round car? Were I to wish for a design, it would be a rock racer with 2.2" wheels (plenty to choose from), trailing arms and a solid rear axle (easy to maintain, good for crawling), a small skid plate but a wide stance (would neither hang up on rocks, nor roll over too easily), independent front suspension (better cornering ability) and a remotely lockable front differential (to be able to both crawl and bash). Traxxas? Axial? Losi? Team Associated? Arrma? Anyone up to the task? Or does anyone have a better suggestion for the perfect all rounder? Let me know.
Hard job thinking about it? Then have a break and read another column.