Losing grip – Big Squid Evolution
Today is the day I order a new body. It doesn't really have to be much younger than the present one, but I'm thinking one without grey hairs and with no Iliotibial Band Syndrome that prevents me from running, but with perfect eye sight and just a tad whiter teeth. I am sure the guys working at the lab in Westworld could cobble something together from spare parts and left overs.
Should that body prove too expensive or unavailable, I will instead settle for a new body for my MST RMX. I had to leave all my drift bodies behind a while ago, and drifting naked – figuratively speaking – just isn't the same as dressed. In fact, I already have ordered a new one, and it should arrive at my doorstep in a fortnight. I spent quite some time considering what to get. Or, to be more precise, I spent quite some time considering the specifications I was after, and then it was a simple matter of ruling out options until only one remained.
First, it needed to be a good looking, credible, classic drift body. That didn't exactly rule out a lot, but after thinking about it, I decided not to go for an Alfa Romeo TZ3 Corsa. It's beautiful, but just doesn't have a drift vibe to it. Only about five dozen options remained.
Second, I wanted high quality and details. Regular readers will know I am a fan of KillerbodyRC, partly due to their inclusion of injection molded plastic details with all their bodies: light buckets, exhaust pipes, grills, wing mirrors and such. It's really nice, and saves quite a bit of money, not having to buy those things separately. Browsing through the Killerbody web store narrowed down my choice a lot. With a lot of their bodies out of stock, I was left chosing between Subaru BRZ, Toyota 86, Lexus RC F, Nissan Skyline, and Mitsubishi Lancer Evo
Third, and this was important, I wanted a body that would provide me with a good canvas for a bonkers paint scheme. When it comes to painting, I'm always up for a challenge, and with an airbrush I should be able to take things to a whole new level. But there are limits. I reason that if I am aiming to do something complicated, I probably shouldn't do it on a complex body. In essence: I want the body shell to come in just one piece. On a lot of bodies, the front is a separate piece and hence needs to be painted separately. That makes it really hard to make any kind of shape that involves both front and main body to line up properly. Not to mention difficulties doing color transitions that involve both parts – that would be way beyond my capabilities.
The one-piece requirements eliminated everything but the Mitsubishi Lancer Evolution X, so that one it is. A classic drifter, if ever there was one. Not as beautiful as the Alfa Romeo TZ3, not as cool as the Subaru, not as blingy as the Lexus, but an excellent body for a complex paint scheme.
Regarding the paint scheme, it will feature an animal. My Yeti is called Snowman and my Bomber Panther, both featuring graphics of their respective namesakes. I drifted away from the animal theme on my previous drift bodies, and it's due time to go back to those concept roots of mine. Therefore, a beast it needs to be. Which one? A squid, naturally. A Big Squid, naturally.
I have been pondering this for a while, but have only made a very quick proof of concept – using a printer, crayons and some quick and dirty work in photoshop – and have some ideas for colors on my mind. While I don't really like to show my sketches, I will do it this time, just to give you an idea of where I am starting. The "G" is the last letter of "BIG", by the way.Where it all ends up, that remains to be seen.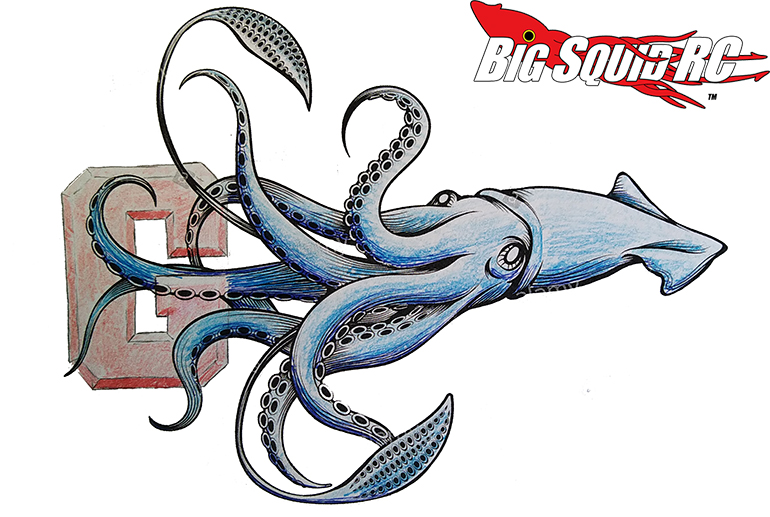 Now show me some love, and hit the link to read another column.