Losing Grip – Drift Package
I currently have the privilege of a couple of days off from work – sadly a far too unusual occurence – and have taken the opportunity to go for a trip to the beach. Swimming, having coffee overlooking the ocean, and drifting in the basement carpark. Neither much sun nor any good views down there, but an excellent flat, smooth, slippery concrete floor.
In fact, the floor is a bit too slippery for my standard asphalt setup, and that coupled with vacation leads me into todays topic: the Drift Package. Or, maybe more appropriate, Drift Packaging. Or perhaps Packaging for Drift? Whatever.
Sometimes I have a weekday off, and when I do I often find that I have just over an hour of spare time in between lunch and picking up the kids from school. In the geographical space between lunch and school, there's a nice park with some nice and wide asphalt walkways – my standard drift track. See how it all lines up?
With a full stomach, I grab my stuff. In the backpack goes my Drift Package: car, receiver, battery (duh), a very small box with assorted screws and nuts, three hexdrivers, a small turnbuckle tool (the one I got with the MST kit) and, important, two or three complete wheel and tire sets. Eight or twelve wheels that is. This takes me about five minutes to pack, and then I am off. Oh, almost forgot, a thermos of coffe goes in the backpack too. THEN I am off, for an hour of solid fun and relaxation. Same things goes in the trunk wherever I go for a few days off, sometimes with the addition of one or two rock racers.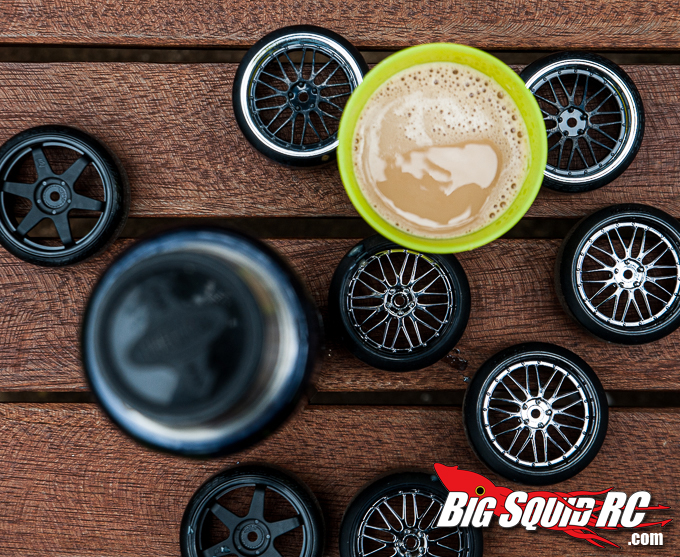 As a rock racer at my roots, bringing a dozen sets of wheels along initially seemed excessive, but it's not. For one, drift wheels wear down a lot faster than the Prolines on my crawler, especially on asphalt, so it's always good to have a spare set ready to go. Luckily, a full set of four tires tends to cost closer to ten than to fifteen bucks, so its no big deal having to change them every now and then. Also, since I don't yet have two drift cars, having a couple of sets with different compounds (hardest, hard and soft in my case) is a must to be able to quickly adapt to different surfaces. As I said, I normally drift on asphalt, but now find my self with a very, very slippery concrete floor. Which, by the way, goes some way to prove my thesis: it's almost always easy to find a spot to drift nearby.
So, off comes a set of hard compound tires, on goes medium or soft. A couple of turns with the turnbuckle tool for increased negative camber and a bit more toe out is probably a good idea too. All in all it will take me less than five minutes of wrenching, and then I should be good for a start. The sun has set, but it's about an hour before dinner. I am off! Good buy computer, hello basement carpark!
Want to read more drift columns? Hit the link!