Losing grip – Hitting the trail
Yes, that's an Axial Bomber driving through a puddle. And here goes Viper: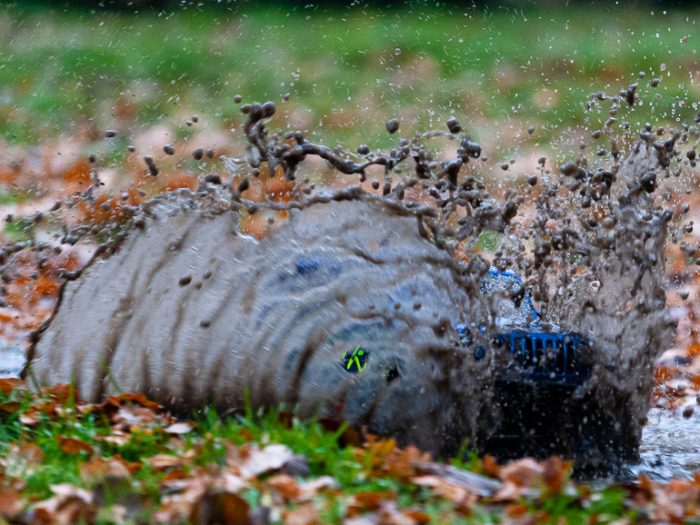 Not quite as impressive, but what it all comes down to, is this: shared fun. I've had a two month hiatus from RC, due to work being busy and spare time scarce, but today I finally hit the trails again. Drift season is gone now, at least for an outside drifter like me. Something like the just announced Traxxas Toyota GR Supra would give me some more tarmac time, but I don't have anything like it in my RC garage. Drifters, rock racers, crawlers. That's it. No street basher.
So, the trails it is. My kids have the week off, and so do I. On top of the smallest squidlings to-do list for today, was driving with dad. How great is that? Plenty great, I tell you. Two days ago, I did some trailing with my son. Unfortunately, not for long, since my Bomber's pinion gear came loose after less than a mile. Odd, and annoying, since on a Bomber, that's not a roadside repair. I've said it before, and I'll say it again: the Axial Bomber is an absolutely awesome rig, but wrenching on it is a pain. It takes fourteen screws (twelve long ones) to get to the pinion. Hence, junior got to drive my SCX10 back, while I carried the Bomber. Walk of shame. Luckily, it was raining quite heavily, so no one was out to see me.
Today, after an hour of driving, the pinion on the SCX10 came loose. Odd, again. Two pinions loose in two days. Luckily, on the SCX10 that is a roadside repair, and we were quickly on our way again. My daughter driving her favorite: Panther, my Bomber.
She loves the Bomber, because it conquers everything. It's fast, nimble and incredibly capable on the rocks. Meanwhile, I have taken a liking to my SCX10-3, because it doesn't conquer everything. It is not very fast (12-15 mph, I reckon), but nimble and has  impressive crawling capabilities. Not quite on par with a 2.2″ rig, but that's the very point. It's more of a challenge.
But never mind the technicalities. What's important, is that we had a great time. RC is such a great thing to do with children. On leaving the house, I figured we would return in less than an hour, so I didn't bring my afternoon coffee. As it turned out, almost two hours flew by in an instant. Racing each other on the wider trails (she won), trying to follow each other on the rocks (she won again), exploring new areas, leaving the trails, finding routes around impossible obstacles, crossing a tiny ford, driving back and forth in a deep puddle, bashing through mounds of of newly fallen leaves.
And that's what it all comes down to: shared fun. Throwing roost (or water), having a good time with my loved ones.
To read another column, hit the link.