Losing grip – Hoonitruck tribute
While I am not a frequent prowler of Facebook groups, I venture into them every now and then when I need to kill some time. Like on night shifts, when everything is quiet, but I still need to stay awake. Perfect time for forays into this thick RC undergrowth, where strange and beautiful things can be found. If not by persistence, which is lacking on my part, by luck.
So it was that something caught my eye, and I had to delve deeper to see whether I was just hallucinating, or if it truly was a tribute to Ken Block's Hoonitruck. That truck is absolutely amazing, and if you haven't seen it already, you really ought to take a look.
Since I first saw that car, I have been waiting to see an RC drift version of it, and now I've found it.
Mind that this isn't an exact replica, but more of a tribute. A "replica with a twist", according to builder Thirdie Lopez. When I got in touch with Thirdie, it turned out that he's the man behind SkunkworksCustoms, a small company that does commission based jobs – body shells, custom works and such. I had heard of Skunkworks before, so thought it pretty funny that I stumbled upon it just by checking out a really cool build. Props to Thirdie, whose work clearly speaks for itself.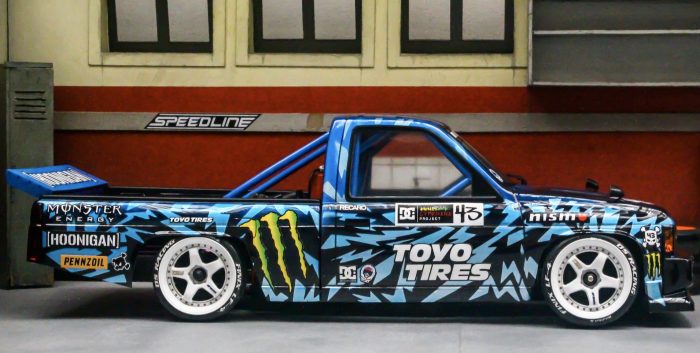 When he's not building drifters or representing the Philipines as a competitive RC drifter, Thirdie shoots and edits videos of custom cars – to say this guy is immersed in cars large and small is an understatement. But I digress, this column isn't as much about builders, as about the cars they build. So lets get on with the details.
Ken Block's Hoonitruck is a 1977 Ford F-150 (well, not really, but it has the general shape of one), but since Thirdie couldn't find the exact right body shell, he used a Nissan D21 instead, by Team Tetsujin. Good choise, methinks. For the paint job, he did a custom mask, and a color fade from top to bottom. The roll cage is made from a balloon stick (at least that part was cheap), the drag wing is styrene, the fire extinguisher and gas tank were robbed off his crawler, and the rest of the accessories were found in his bits box. The decals were custom made by him, copied from the original and scaled to fit.
All of this were then sat upon a Yokomo YD-2SX chassis, that is pretty much factory stock, and finished off with DS Racing Work Meister wheels. The end result is just too cool not to share in this column.
Hats off to Skunkworks Customs, to Thirdie Lopez and his Nissan Hoonitruck, I'm sure Mr Block would approve of it.
If you're not allowed to leave your home, why don't you read another column?