Losing Grip – Liquid mask mess
Today, rather than showing off the beginnings of a well painted body, I will lament my use of liquid mask. I have used liquid mask for all my bodies so far, and have been very happy with the result, but, alas, not today. Previously I have applied the mask using a brush, three layers brushed on in alternating directions. Bitty Design Liquid Mask, I think it has been, and it has worked fine every time. This time, I used my airbrush to apply Vallejo Liquid Mask, and while it was no problem applying it, even though I used a .35 needle, removing it has caused me grief.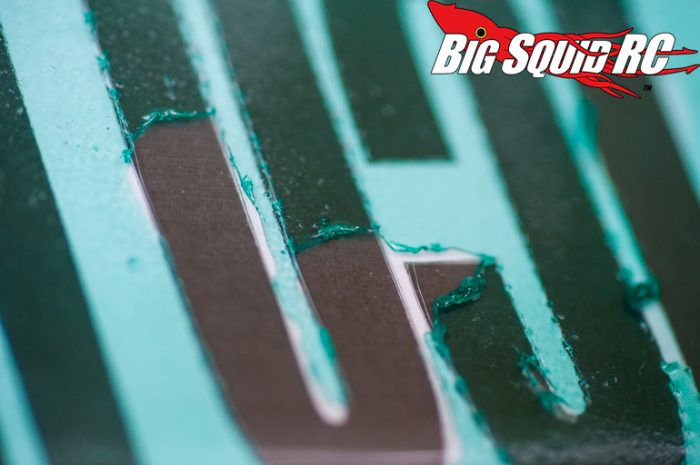 Have a look at the picture above. As per my usual work flow, I have taped my design on the outside, cut the mask using a brand new hobby knife, and then started to peel the rubber. The picture is very much enlarged, the distance between the letters is roughly 1,5 mm. So, it is a fiddly design to cut with a scalpel, but I have done designs with a similar resolution successfully before. Sadly, as you can see, the mask didn't come off clean at all. There's a stickiness to it, even though I have cut clean through it – you can clearly see the cuts in the lexan – it doesn't part the way it should. Sort of like the red sea and the Israelites fleeing from the Egyptians: the liquid mask parts as I cut through it, but then closes in again behind the scalpel. There's a stickiness to it that I don't recognize from my previous bodies, even though I am sure it has dried properly.
Very, very frustrating! What to do? The whole inside of the body is covered in a layer of liquid mask that is rubbish! And yes, I have roughened up the surface with some steel wool, the problem isn't that it doesn't stick well enough to the body. In fact, if anything, it sticks to well. Should I clean it all off? Should I bite the bullet and buy a new body?
In the end, I suppose I will have to put this down as a learning experience. The body didn't cost a fortune, I am happy I messed up on this one rather than on something more expensive. I might have to go back to brushing the mask on. The best alternative would be a custom cut vinyl mask, but there's nowhere around here where I can order that in quantities less than fifty or a hundred. Common masking tape might work. At least that is cheap, so I guess I will give it a try.
Since I am mostly complaining today, I will keep it short. The wait for a new body will be long. In the meantime, I'll see what I can salvage from this one. Wish me luck.
To read a happier column, hit the link.