Losing Grip – MST FXX 2.0 KMW
A couple of days ago MST released a few more details of their upcoming FXX 2.0 KMW, and I am really rather curious about it. Front motor, shaft driven and inboard front suspension, all mounted on a 3.5 mm carbon fibre chassis. The battery and electronics are concentrated towards the rear, which coupled with the front engine should give a pretty even weight distribution.  As opposed to most other chassis – the RMX 2.0, the different Yokomo YD-2 chassis, Overdose GALM, Xpress GripXero and so on – the motor is oriented lengtwise, not transverse. So, when accelerating, this will cause torque twist. With a transverse, rear mounted motor, acceleration and deceleration instead has a more direct, and symmertrical, affect on rear grip.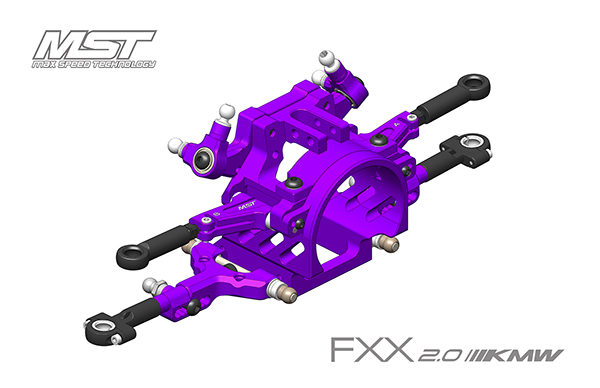 Looking at the rear setup, toe will be easily adjustible, and progressive. That is, it can be setup so that rear toe angle changes as the suspension cycles. In short, it will be possible to adjust for variable rear grip, which is pretty cool. Some supercars, like Koenigsegg Jesko or Lamborghini Aventador, have reactive rear wheel steering (giving a virtual lenghening or shortening of the wheel base at high and low speeds respectively), and while this setup certainly isn't anywhere near as advanced (nor costs three million dollars to get) it is probably as close as we'll ever get in a drifter. Maybe not a very relevant comparison, but nonetheless, a reactive rear toe in a drifter is really cool.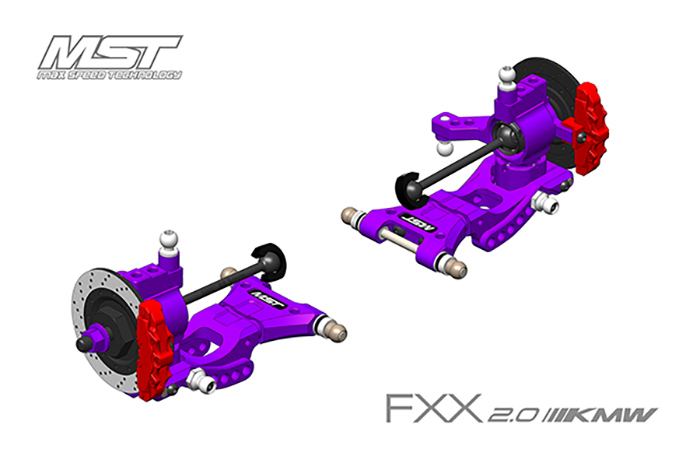 While the layout, is quite adeparture from the current norm, the parts themselves are bound to be up at the top with the best of them. The computer renderings on their homepage might not be very sexy, but the actual aluminum bits sure will be, at least judging from MST's previous premium offerings.
In the end, I am really intrigued by this release. The original MST FXX-D was released way back in 2014, and considering how fast the drift scene has been moving, it is interesting that they chose to revamp this layout with a premium kit. What are your thoughts about it? Why don't you post a comment and let us know?
Until next week, keep that rear end sideways! And why don't you read another column here? Or check out the MST FXX 2.0 KMW at their homepage here.