Losing grip – MST FXX 2.0S
Depending on perspective, this column is either ten days late, or three days late. Suffice to say, that moving countries tends to put hobby matters quite far down on the to-do list. Making sure kids and some four hundred pounds of luggage gets on and off the plane, does not leave a lot of room for RC related matters. Nor does Singapore, a rather busy place where drifting hasn't taken off the way one would think. Drifting is huge in parts of South East Asia, but virtually non existent here. Heck, I saw more 1:1 drift cars in rural Queensland, than I have so far in Singapore – and I have seen a lot of cars here. A lot of cars, and a lot of people. Gotta watch out for 'em crowds now with that nasty virus spreading from China, and the first Sinaporean case confirmed a couple of days ago. Going from bush fires in Australia, to crowds, Chinese New Year celebrations and killer bugs in Singapore – great, eh?
Anyway, between visiting friends, being disgusted by pig kidney soup and eating delicious popiah, I now find myself with about an hour to spare. Actual drifting is out of the question, what with both my chassis buried deep down somewhere in a massive bag, transmitters somewhere else and batteries left behind. So, instead of drifting, I have to resort to dreaming. Luckily MST has just offered stuff to dream about: the MST FXX 2.0S.
Remember the MST FXX 2.0S KMW, bling all the way through and a price tag of 999 bucks? Remove the KMW, and you got the same car without the bling, and a price tag that I expect will be somewhere just above 200 dollars. Suddenly, this front motor chassis is affordable. And it has the same rear suspension setup as its big brother, with body tilt affecting rear wheel steering. Pretty cool.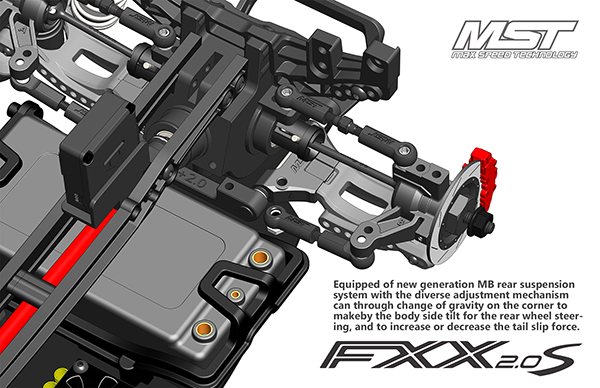 This chassis should offer a quite different driving experience compared with the mainstays of Yokomo YD2 (in all its different varieties) and MST RMX. Which means that the ever so wanted new transmitter of mine just took another great leap towards the horizon.
Now, time to repack my luggage from five 70-pound bags, into seven 52-pound bags, due to different rules on different carriers. Sound like fun, right? While I do that, I suggest that you head over to MST's homepage and check out the MST FXX 2.0S.
Want to read another Losing Grip column? Click the link.