Losing grip – on liquid mask
One thing (at least) you got to give Doug – the Monster Truck guy – and that is that he is very, very productive. That dude is producing solid axle monster trucks at an incredible rate! Clod this, clod that, all of them really good looking and most of them green. I wish I could spit out drifters at just half his rate, but with both time and resources being limited, that just won't happen. What has happened, is a bit of work on my EVO body, and I am happy to report that liquid mask works excellent in an airbrush.
To be specific, I have been using Vallejo's liquid mask, through an Iwata Eclipse HP-CS airbrush with a 0.35 mm nozzle. With the needle being so thin, I was worried that the mask would just clog it up, but it worked fine. No thinning of the mask required, just pour in the cup and spray. I used a pressure of 20 psi, which worked fine, as did 15. Only minor gripe was that really thin coats didn't work. I made the first coat really thin, and the liquid rubber particles almost dried before it hit the body, not attaching properly to it. It became more of a fine rubber dust, that came off really easily. Second, third and fourth coat went on a bit thicker, and that worked really well. Airbrushing the mask also was a lot quicker than using a brush. Easier, quicker, better result – I just cannot see myself ever using brush to lay on mask again.
The main problem I faced was that my airbrush booth was a bit on the small side for painting lexan bodies. Luckily, I have spent a lot of time latey building a chicken coop with adjoining pen, which means that I happen to have some spare plywood bits left over. Also, my wife cannot tell whether I am building chicken coop, or airbrush booth when I am outside working, so I have used some time and timber on a new, bigger home for my airbrush. Nothing fancy, just something to catch the fumes and give me good light for painting. The booth I currently have was built using scraps from some old book shelves, a bathroom fan, a filter (on the back of it all, not visible), and some cheap light. Maybe 25 bucks all in all, and it does the job (although a bit on the small side).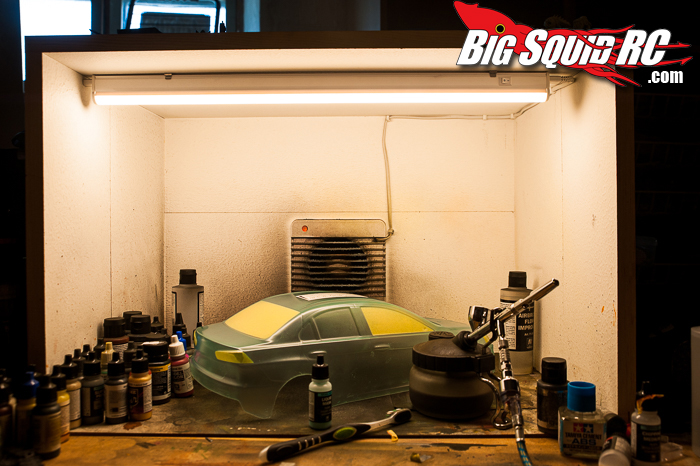 Speaking of fumes, should you go down my route and start using an airbrush for painting, do use a protective mask. In my lines of work and hobby, I get exposed to both aerosolized covid-19-virus, and aerosolized rubber. In both cases I chose to wear some serious protective gear. I really don't want a thin coat of either in my lungs. Oh, and by the way, the toothbrush in the pictures is not for my teeth, but for cleaning out the airbrush. I generally try to keep maintenance of personal hygiene and painting separate activities, and recommend you to do the same.
It's a beautiful day. The sun is beconning. Time to go drifting, crawling, sailing – or perhaps all of them. It's a great hobby!
Don't forget neither to support your local hobby shop, nor to hit the link to read another column. And even more important: to get out and enjoy your hobby!